More Than Four Walls
Pets:

Beaches could be more sanitary, not less so thanks to dogs

Posted on Sun, Sep 2, 2012 : 6 a.m.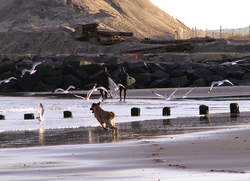 flickr photo by sister72
Summer is synonymous with beach-going, water sports and other outdoor options to cool off and have fun.
It's even more fun when your four-legged friends can tag along, right?
When considering options for summer fun on the water with your dogs, the things that you can do are limited because of regulations, and I can tell you from personal experience that the looks that you get from other beach-goers that are without pets can be a bit disconcerting. As I've talked about before, not every one appreciates pets as much as I or other people do, and that's understandable.
In fact, dogs aren't allowed in most areas with access to the water in Washtenaw County.
But one misnomer that people seem to focus on when it comes to dogs is the risk that's there of contamination because of their waste left behind.
I've always been in the camp that is dismissive of that notion; most pet owners are very mindful of cleaning up after their furry friends while out enjoying a day on the sand and surf. And, as a group of researchers have discovered, one activity that I've observed well-behaved dogs doing while out on the beach — chasing birds off — could actually promote a healthier environment at the water's edge.
Chasing off birds could decrease the number of beaches closed because of pathogenic contamination, like E. coli. That could be a boon to beach-goers for future holiday weekends.
Birds have caused problems with the spread of disease in their waste. (That's not to say that waste left behind by less-than-mindful pet owners isn't problematic, and as a dog walker I find that appalling!)
Now, aside from dogs trailing endangered avians, I can appreciate canines joyfully chasing off birds — like seagulls — that can be (through no fault of their own), a nuisance by begging for a hand out and worse, leaving their droppings behind on the shoreline, sometimes in high concentrations.
Last summer, a team of researchers from the Environmental Protection Agency in Chapel Hill, N.C. examined water quality in North Beach in Racine, Wis. The released a study on their findings just a few days ago in Environmental Science & Technology.
The team, led by Reagan Reed Converse, an environmental microbiologist, collected beach water samples for the first few days of August 2011 to get a baseline bacterial count — and then sent in the hounds.
Dog teams made up of one or two trained border collies and their human handler, chased ring-billed and herring gulls away from the beach during the daylight hours for about 10 days, and sampled the water.
The impact was significant, according to the team.
During the early period of the study, pathogenic bacteria like Salmonella and Campylobacter dropped off, and during the nine-day period, contaminants like E. coli were undetectable.
The final data can be a bit ambiguous, since it's not known if the strains of these pathogens actually make humans sick, and connecting the dots between gull droppings and human illness can be challenging.
The initial findings are promising, and could provide a better results overall as the immediate success of using the dogs is better than say other methods of controlling gulls, like oiling their nests, is.
One caveat: using dogs as opposed to other methods to control birds is more costly.
Click here to read more about the study and tell us your thoughts — does this change your mind about pets being allowed to mindfully use area beaches and parks?