More Than Four Walls
Pets:

A post-prison Michael Vick is partnering with a national animal rights organization to help end dog fighting - can he be the face of change?

Posted on Sat, Jul 28, 2012 : 1:05 p.m.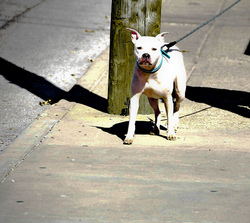 flickr photo by Valerie Everett
It's a funny thing, the way that our culture holds certain people in esteem. From celebrities, politicians, professional athletes, when they fall from grace for any given reason, it seems that we're equally rapt with the fallout.
In the compelling case of Michael Vick being involved in a dog fighting ring, this was especially true as it seemed that what came to light in 2007 crossed so many of our society's cultural and personal paths; from pet lovers, football fans and everyone in between, there was a mix of outrage and apathy or even indifference.
None of those are really surprising to me. I'm all-too-aware of the variance of opinions that are expressed here on the pets section and elsewhere, and, quite honestly, I find that interesting.
It's not always easy to hear — the indifference and apathy — but certainly interesting, and here's why: We live in a period of time that has three very distinct ways of thinking (much of it fueled by a generation one was born in) when it comes to the treatment of animals, domesticated or not, and they are paving the way for how animals are treated in the future.
It's a strange brew of an older generation who, in many cases, saw cats and dogs as outdoor animals who were given basic care, a previous generation who was stemming that tide and saw a shift in thinking about ethical standards of treatment, spay/neuter and the human/animal connection — and the current generation (and of course members from previous generations) who have evolved even more and have fueled quite the push to raise awareness and better standards or care for animals of all kinds.
And let's not forget cultural and geographic influences!
It's been an interesting thing to watch, for someone who is immersed in the culture of pets as I am.
Why am I bringing all of this up?
It's because I think that it's important to remember all of this, and to keep a sense of objectivity when thinking about a dog fighting ring was able to reach the size of the one Vick helped to create. (But he did not do it alone.)
Now before the incensed opinions are offered about how I seem to be sympathetic to Vick — trust me, I'm not. Far from it.
The thing is, Vick is just the tip of the proverbial hidden iceberg. He was able to carry out such horrible acts because he had stature and money — and because other people were willing to be a part of it all, or to look the other way. Part of it was a cultural thing.
Dog fighting existed before Vick (he in fact, says that he had been involved with the activity as early as age 8 and at that time didn't know that it was illegal), and it's still happening across the country.
This case did shed much-needed light on a problem and has precipitated awareness and change on peripheral topics (things that are even happening in Washtenaw county), like the plight of the "breeds" that are so often associated with dog fighting and other unsavory human deeds: Pit bulls.
During the time that he served in prison after his conviction, Vick reached out to Humane Society of the United States' President and CEO Wayne Pacelle to talk about the idea of assisting the HSUS's community-based programs that reach inner-city youth.
Pacelle knew that, by-and-large, supporters of HSUS would be opposed to the idea, but he also understood that the collaboration could reach young people in urban communities, where dog fighting has been popular.
Click here to read my interview with Pacelle from last summer. He was in Ann Arbor to talk about his book, "The Bond: Our Kinship With Animals, Our Call To Defend Them"
A few days ago, NPR's 'All Things Considered' featured Vick and Pacelle to talk about the controversy and the strategy to help end dog fighting — and how they are teaming up to support H.R. 2492, the Animal Fighting Spectator Prohibition Act — and to no doubt plug Vick's new book.
Click here to read the transcript of the interview.
The truth is, no one knows if Vick is truly sorry for the right reasons for his role in dog fighting, besides Vick of course. We can expand on that point until the cows come home, but none of that changes what is.
What is undeniable is that we are a society that loves to see those in the public eye rise, fall and even rise again, regardless of the circumstances.
Do you think that given Vick's history and current stature in our culture, that he can be an effective catalyst for positive change when it comes to highlighting the treatment of animals?
Connect with us by adding your comments below, and by taking the poll.