More Than Four Walls
Pets:

Cat treats recalled because of 'possible contamination' by propylene glycol

Posted on Wed, Aug 8, 2012 : 4:49 p.m.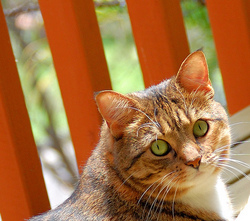 flickr photo by sub_lime79

Several recalls have been issued by pet food companies, and the latest involves cat treats.

According to the Food and Drug Administration, a voluntary recall was made by Arthur Dogswell LLC after testing revealed the presence of propylene glycol in the VitaKitty Chicken Breast Treats with Flaxseed and Vitamins.

Chicken jerky treats for dogs have been included in previous recalls by other companies, and concern over that is rising.

If a cat consumes propylene glycol, the chemical could reduce red blood cell survival time, or anemic, and make the cells more prone to oxidative damage.

The treats included in the recall were available in retail stores and via mail order from April 13 through June 14, 2012, as a resealable two-ounce orange plastic bag with a clear window.

Please note the following 'best by' dates and UPC/lot codes:
SEW12CH032701/03c September 10, 2013 - (UPC code 8 84244 00057 2)
SEW12CH032702/03c September 11, 2013 - (UPC code 8 84244 00057 2)
Those who have purchased this product may return it for a full refund. Consumers with questions may contact the company at 1-888-559-8833.
You can count on AnnArbor.com to offer up-to-date information on pet product related recalls. Search our archives of previous recalls here.