Pets:

Meet the AnnArbor.com pet of the week: Alli, a boxer mix who loves life & is a 'dream' to walk on a leash

Posted on Wed, Oct 17, 2012 : noon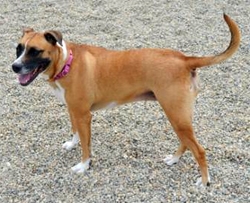 Photo by HSHV

Alli is an adorable and very well-behaved 5-year-old Boxer mix. She was found as a stray, and while staying at the Humane Society of Huron Valley shelter seemed timid and shy, but from the second she was placed in an HSHV foster home, she's been a different dog. She's happy and even playing now.

Alli enjoys just hanging out, and she loves going for walks. She's a dream on a leash. She knows 'sit,' 'lie down' and 'shake' for sure, and it looks like she understands 'stay,' as well. She sits by the back door when she needs to go out, and if you say. "Want to go outside?" when she's not near the door, she'll beat you there. When she's really excited (dinner, tennis ball, treats, etc), she dances in place — it's adorable!!

She's been great with the kids in her foster home (ages 10, 11 and 14) and completely ignores the cats (even though one is not happy she's here). She seems more timid/hesitant around some men but will warm up once she gets to know them.

Alli is available for adoption, and it is super easy to meet her. Call us now at 734-661-3511 and we can arrange a meeting, or email adoptions@hshv.org.

HSHV is open daily at 11 a.m. for adoptions. Please stop by and visit Alli..

All pets available for adoption are spayed/neutered, up-to-date on their vaccinations, medically and behaviorally evaluated, and they have a microchip ID all included in their low adoption fee. Please make adoption your first option.

The Humane Society of Huron Valley, located in Ann Arbor, was awarded the "Best Large Animal Shelter in Michigan" by the Michigan Pet Fund Alliance, for the second time in a row this year, for saving the most lives. HSHV is an independent 501(c)(3) nonprofit organization and relies solely on donations from businesses and individuals to support our community programs.

HSHV is not affiliated with the Michigan Humane Society or any other humane organization. The mission of HSHV is to promote responsible and compassionate care of all animals in our community.