More Than Four Walls
Pets:

The Ann Arbor area is chock-full of fun summer events, but your pets will be more comfortable when kept at home

Posted on Tue, Jul 17, 2012 : 4:40 p.m.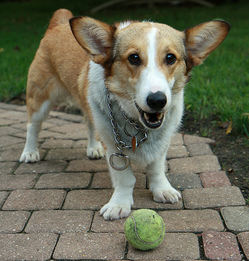 flickr photo by milldrum
With summer in Michigan, we are all soaking up all of the fun outdoor events that the state has to offer.
Usually once during the middle of summer, Chris and I head out on a road trip for a few days to escape our usual routine. When others learn of our plans, we often hear, "Are you taking your dogs?"
My answer at this point, is "No..." and people are usually shocked. There are some who feel that we're depriving our dogs of some sort of something-or-other by not including them in our plans.
And that surprises me.
Don't get me wrong. Years ago, I used to travel with Gretchen on a regular basis. Having stayed at familiar hotels each time, knowing where all of the truly dog-friendly places were, and having a plan to ensure her comfort every step of the way was essential in having a fun time. And it took a lot of work, and sometimes, it was very hot outside.
We would never think of traveling like that with our pets at their current ages: nearly 15 years. High temperatures, humidity, the possibility of breaking down somewhere or an accident — it's just too risky at any age, really. I know that they'll both be happier and safer by staying behind.
Thinking about a pet's comfort (which is what one should be doing as a caregiver), especially at the height of summer, is a constant challenge when you're away from home.
That's why it surprises me to see so many dogs in attendance at summer events like the Ann Arbor Street Art Fair each year. It always seems to be the hottest week of the summer. One can always see a handful of people that are having difficulty dealing with sweltering temperatures, not to mention the humidity.
Then there's the panting, uncomfortable and sometimes clearly physically and mentally distressed dogs being dragged along as the person at the other end of the leash browses and lingers at the crowded booths.
That's very troubling to me.
We live in an interesting time when it comes to pets. Our thinking has evolved tremendously where the acceptance of pet dogs is concerned. They not only live inside our homes, but in some cases have activities outside of the home designed just for them, like agility classes.
It's great that we can include them if we would like when we attend public events — but should we all of the time?
Probably not.
Most of our pets would probably love to go with us everywhere, to see what it is that we do when we're not with them, but not when the physical environment is unsuitable for them. Pets can't object to being lead around on a leash in 90-plus degree weather at an event geared toward humans.
It's difficult to not anthropomorphize pets, but in their own best interest, one can't expect them to live completely immersed in the human world, to include them in every aspect of our lives. It's unfair and goes against their nature. They're dogs, not humans.
And, I'm all-too-aware of some of my fellow humans' distain for dogs. The faint scowl or perhaps a fearful glance on their face says it all — and I respect that. Where does the idea come from that others would enjoy sharing their leisure time with dogs in a public setting like a summer festival, whether they love dogs or not?
How do you feel about pets attending summer festivals and events?