Pets:

A microchip leads to a happy reunion for a lost cat and his owner

Posted on Mon, Jun 11, 2012 : 11:10 a.m.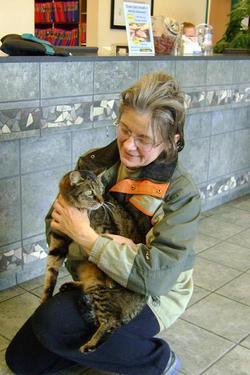 Photo by Ann Arbor Animal Hospital
Each year the Ann Arbor Animal Hospital participates in an awareness campaign designed to motivate pet owners to have their four-legged children micro-chipped. The message of microchipping seems to be resonating globally, with both the U.S. and the U.K. having designated June as National Microchipping Month.
The AAAH has done several blogs on microchipping — see this blog which links to a video of a microchip being implanted — but it still seems as though there is more work to do getting pet owners to understand why microchipping should be viewed as more along the lines of "mandatory" versus "optional."
Case in point, this past February we met a Good Samaritan who brought an adult male cat to the hospital. He was a beautiful brown tabby, found as a stray, who obviously had been someone's pet at one point in his life. However, at presentation, the veterinarian and staff knew this cat had probably been separated from his owners for some time. His skittish demeanor and weight loss were two signs that this poor guy missed home.
Our doctor scanned the stray and found a microchip with the relevant information we needed. The registered name on the chip led to a phone number, which led to a phone call, which led to an owner, ecstatic that her long-lost boy had been found.
Later on that same day we met Joanne, who is a resident of Detroit. Joanne was both relieved and overjoyed that she was reunited with Tom, her 8-year-old cat.
As it turns out, Tom was lost Sept. 2, 2011, and had been a stray until the Good Samaritan brought him to our hospital on Feb. 23 — more than 140 days after he went missing. Apparently, while traveling to their home in Detroit, Tom's owners had stopped near Sutton Road between Northfield Church and North Territorial Roads, and Tom escaped.
Joanne listed Tom's information on Petfinder.com, The Humane Society of Huron Valley and on Craigslist in the hope that someone would see her "missing" message and be able to help. Also, Joanne stopped several times over the following weeks at the location where she'd lost Tom, but that too proved fruitless.
When we met Joanne she told us that she had lost hope of ever seeing Tom again and this, combined with the frustration and anxiety of not knowing what ever happened to him, made the whole experience one she would like to forget. When they were finally reunited, you can image how excited and happy we were to watch.
At this point we think it is important to remind our readers that many pets found wandering are simply lost, recently separated from their owners, as is pointed out in this recent piece (which also provides information on how to proceed if you find a lost or stray pet).
So, with the beautiful weather we're having and all of us letting our pets outside to experience the change of seasons with us, we're encouraging pet owners to please get your pets microchipped if you haven't done so already. It could some day lead to a happy reunion of your own.
David Caddell is the hospital director of the Ann Arbor Animal Hospital, a locally owned and operated Companion Animal Hospital. David can be reached at 734-662-4474 or dcaddell@AnnArborAnimalHospital.com.