outdoors:

Walleye fishing with Sen. Randy Richardville is a chance to get back into the outdoors

Posted on Mon, Jun 25, 2012 : 10:38 a.m.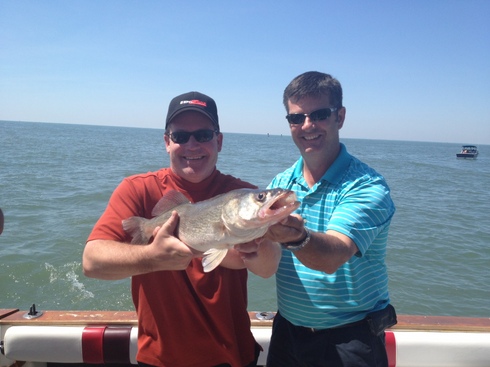 Rick Taylor | AnnArbor.com Contributor
I haven't done anything related to the outdoors in months. I haven't fished once this year; heck I didn't even go turkey hunting at all this spring.
Home sales have absolutely exploded in Washtenaw County. I've always been busy selling homes but nothing compares to the spectacular real estate market I've seen this year. I'm not the only agent touting this fact; many agents are having their best year ever.
Unfortunately, this real estate success puts our personal passions on hold, let alone our personal time with our families. I was beginning to wonder if I'd ever get outdoors when I came across an email on my smart phone.
It was an email from the Michigan Association of Realtors; they offered two free tickets for a walleye fishing tournament on Lake Erie near Monroe.
"Oh Yeah, I'm doing this," I thought to myself. I immediately called the number provided and found myself confirmed for this event. I laughed to myself because I didn't even know who was hosting this fishing event, and I didn't care either. I just wanted — actually really needed — a few hours to just get away from work for a little while.
It wasn't until later that evening I realized this walleye fishing tournament was a fundraising event for Sen. Randy Richardville. Randy is the Michigan Senate House majority leader. It turns out that Randy has hosted and fished this event for 12 years and has no plans to stop.
I made the drive to Toledo Beach Marina from Ann Arbor without any traffic problems. I registered at the marina and waited to be told which boat I'd be on. There were well over 100 people at this event, and I was looking forward to getting on one of the charter boats and hearing their engines roar as they took us out to the fishing grounds.
One of the organizers approached and told me to get on the first boat, headed by Captain Ray Underwood.
Captain Ray has that grandfather-like quality about himself. He was pleasant and happy to have you on his boat, and he wanted us to have a great time. We started to pull away from the dock when the first mate pointed toward the docks. It turned out that we missed one of the fishermen and had to go back.
Wouldn't you know it; it was Senator Randy Richardville. Randy jumped in the boat full of smiles and we slowly headed out to open water. What are the odds…?
I had an opportunity to talk with the other people on the boat and discuss how we planned to fish for walleyes. Today we'd be trolling for them; it is the preferred method on big water.
Joe Robison, the first mate, is also a wildlife biologist for the DNR. It turns out the Joe and Captain Ray have been good friends with Sen. Richardville. Even more interesting is Captain Ray and Sen. Richardville worked together to pass legislation regarding our great outdoors.
The first mate and I had discussed our love of the Great Lakes all while setting up the rods for trolling.
It didn't take long before we got our first fish; a disappointing silver bass. Our next fish was a sheepshead that I reeled in. We caught about six of these buggers before we finally got our first walleye!
We still caught sheepshead and silver bass, but our walleye numbers were improving.
It was such a beautiful morning to be out on the water. There wasn't any wind to speak of, the sun was out, and the fish were biting. What more could you ask for, except for more walleyes?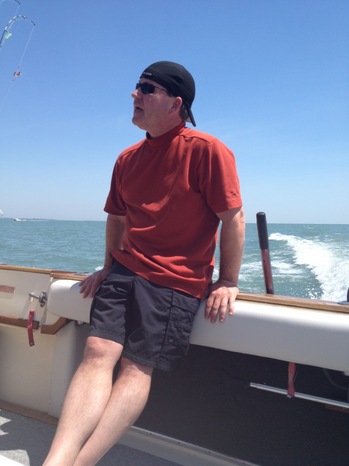 We went a few minutes in between bites, and that gave me an opportunity to talk with Senator Richardville about my real estate concerns in Michigan. Let's face it; its not too often we get an unbridled opportunity to talk with one of the most influential politicians in our state.
We also discussed our love of the outdoors and NASCAR. Ryan Newman, a race car driver for NASCAR and Senator Richardville were having lunch together the next day.
Sheepshead fish are very similar to carp; they're really large and ugly. They hit the rod a lot harder than a walleye, and we were getting tired of catching them.
One of the rods bent over and the first mate yelled, "Sheepsead on!" Nobody wanted to grab it including myself.
What we didn't expect was that sheepshead to turn into an eight-pound walleye! We all rolled our eyes when that impressive fish was brought in, and we all took our turns taking pictures of it even though we didn't catch it ourselves.
It was a great time to be out on the water, and I felt home for the first time in months.
I'd like to thank the Michigan Association of Realtors for the opportunity to fish this event and also thank Senator House Majority Leader Randy Richardville for being an amazingly generous host.
I'm happy to say once again that your story ideas and comments are warmly welcomed, and I look forward to getting back in the saddle writing more stories for your reading pleasure.