A world in the blink of an eye
Of all the people we shall meet - Hello Arthur Filburn
Posted on Wed, Mar 3, 2010 : 11 a.m.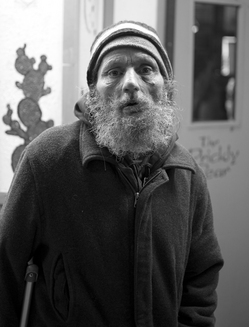 Image by: Charlie Naebeck
Monday night a good friend and I went out to take night photographs downtown Ann Arbor and happened to wander by the Prickly Pear Cafe where we encountered veteran Arthur Filburn who was begging for change outside. He was an old man with a crutch and a long white beard who looked like he had a slight limp as he walked toward us, attempting to spout his spiel in hopes of gaining fifty cents.
Normally I do not answer to folks who try to stop you on the street, because you never know what the outcome could be. But I found this man's plea to be genuine, so we stopped to talk to him.
Earlier that evening, I happened to have found a dollar on the ground at Starbucks, so I figured I would pay it forward as karma to a gentleman who could truly use it.
In giving him the dollar, he profusely thanked us, and I asked him if it would be possible for me to snap a photo of him. He readily agreed and struck his pose.
He told us that he was a veteran who served his country in a war and that he is down on his luck these days and only has half a stomach. I honestly don't know if I would believe someone for their words' face value of this nature (except for a homeless man I ran into in Chicago who said he needed money for the Jack Daniels Research Foundation... ), but any way you look at this photo, here is a man with a past and a face that you can read stories from, and I am glad we stopped to help him.
In less than a half hour and a few blocks later, we ran into Arthur again, and he started to beg for change until he realized that I was the man who took his photo. Then he started thanking us once more.
We parted paths on a cold winter Ann Arbor evening and did not encounter Arthur again. Somehow I still have a feeling that we may see him again some evening wandering the streets telling his tales. In the mean time I have added Arthur to the Ann Arbor in 1,000 images editorial as photo number 10/1,000.
Thank you Arthur Filburn for your tales of adventure and taking time to pose for the camera!