Happy 100th birthday, Pete!
Posted on Fri, Oct 29, 2010 : 4:38 p.m.

My father would have turned 100 today. I have written about him before, but on days like today, I can't help but think about him—after all, he was the ultimate recycler. He grew up in the UP, moved to Detroit for work as a tool and die maker, and back to the UP to retire. In retirement, he worked the gate at the dump. It was a perfect job for him. He sorted through other people's trash for items that he could salvage, fix, reuse, recycle or give away.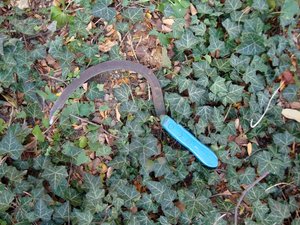 It helped that Pete was pretty handy. He often fixed hand tools that others had discarded, fashioning new handles or reattaching the tools to their original handles. He always painted the handles light blue—a paint color that was created from a variety of salvaged paint cans. Turns out the color is pretty useful: it's easy to find a rake or a scythe in the grass when it is painted blue. It is also useful in spotting loaned tools on your neighbor's workbench!
As a culture, I think we have become pretty sanitized about our waste. We tie it up tightly in plastic and remove it from our homes quickly. Every week, a truck hauls it to a landfill—not a dump—where we don't have to see it or think about it ever again. In an era of mass consumerism, it never matters how much packaging surrounds your new shiny item, because it just disappears.
I like to think that we are returning to a culture of less consumerism. Some of that has to do with the economy, and some of it has to do with our growing awareness of the damage to the planet that our actions cause.
So, in honor of Pete, reconnect with your garbage.