Adventures in Multicultural Living
"Getting Home" kicks off UM Chinese Film Series Saturday
Posted on Fri, Oct 1, 2010 : 12:13 p.m.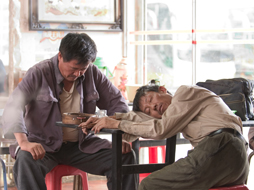 Getting Home will be shown in Mandarin with English subtitles on Saturday, October 2, 2010, 7 pm, Auditorium A, Angell Hall. | image from The Global Film Initiative

The University of Michigan Center for Chinese Studies kicks off this semester's (free) Chinese Film Series in Angell Hall Auditorium A with a showing of Zhang Yang's Getting Home (Luo Yu Gui Gen), a "soulful and humane comedy," in which a middle-aged migrant construction worker struggles to fulfill his best friend's dying wish to be buried in his hometown, China's Three Gorges region, hundreds of miles away—by carrying him there.

Based on a true story, the filmography promises to be stunning (filmed in Yunnan), with interesting food for thought about the lives of migrant workers and the stratification of society. It has also been described by BeyondHollywood.com as "a road film in the purest sense."

From the UM Center for Chinese Studies' blog:
In this soulful and humane comedy, Zhao, a middle-aged construction worker, struggles to fulfill a dying co-worker's last wish to be buried in China's Three Gorges region. Setting out with his colleague's body in tow, Zhao travels hundreds of miles across extraordinary countryside, encountering a number of colorful adventures and characters - and even discovering love in some unlikely quarters. Director Zhang Yang's humorous and moving tale of friendship offers a powerful and sometimes slapstick, commentary on the value of community and human connectivity in modern China.

Director Zhang Yang was born in Beijing, China in 1967. In 1992, he graduated from the Central Theater Academy. He then directed a theatrical production of Kiss of the Spider Woman and went on to direct over twenty underground music videos. His first feature film, Spicy Love Soup, swept the domestic Chinese awards and his second feature, Shower, won the FIPRESCI prize at the Toronto International Film Festival. Getting Home is his fifth feature film.
Getting Home will be shown in Mandarin with English subtitles on Saturday, October 2, 2010, 7 pm, Auditorium A, Angell Hall, 435 S. State Street, Ann Arbor, Michigan. Free admission.
Adventures in Multicultural Living, looking at how our lives are lived with, between, and amongst the many different cultures and peoples in our communities.
Frances Kai-Hwa Wang is a second-generation Chinese American from California who now divides her time between Ann Arbor and the Big Island of Hawaii. She is editor of IMDiversity.com Asian American Village, lead multicultural contributor for AnnArbor.com, and a contributor for New America Media's Ethnoblog. She is a popular speaker on Asian Pacific American and multicultural issues. Check out her website at franceskaihwawang.com, her blog at franceskaihwawang.blogspot.com, and she can be reached at fkwang888@gmail.com.