Zingerman's Roadhouse chef expands farm with purchase of land adjacent to Jenny's Market
Posted on Thu, Jul 19, 2012 : 2:56 p.m.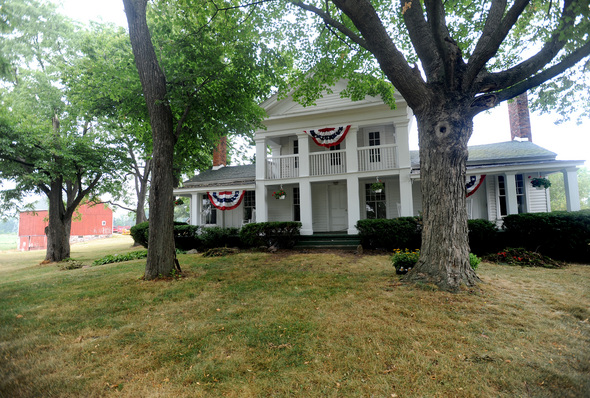 Angela Cesere | AnnArbor.com
Zingerman's Roadhouse chef Alex Young is expanding his Cornman Farms operation near Dexter with the purchase of adjacent land just west of Jenny's Farm Market.
Young plans to expand his current farming operations to the site, and he is renovating a barn on the property that he hopes to rent it out for events. He also plans to renovate a farmhouse on the property, west of the Island Lake and Dexter Pinckney roads intersection, but is not yet sure how he'll use it. It might host events or even serve as a teaching kitchen.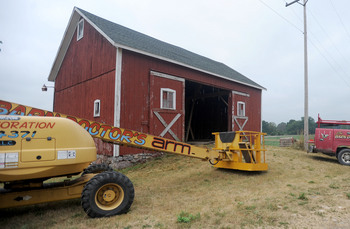 Angela Cesere | AnnArbor.com
Young frequently hosts school tours at Cornman Farms, and he plans to install gardens at the front of the new site that will make it easier to show groups his growing operations. The farm produces many different kinds of vegetables as well as pork and beef for use at the Roadhouse.
Cornman Farms, which Young owns along with Zingerman's Delicatessen founders Paul Saginaw and Ari Weinzweig, purchased the property from the estate of Frances Hoey, whose son, Burton Hoey, is the proprietor of Jenny's Farm Market to the east.
Young said he's had his eye on the property for about three years and is glad to add it to his holdings. "It's just a beautiful old farm," he said.
The addition of the 27 acres brings his total holdings there to about 47 acres. He said his wife's great-great-great grandfather Joseph Arnold purchased the original Cornman Farms, where he lives, in 1825.
Information from Webster Township indicates Cornman Farms bought the property for $475,000. Its most recent assessed value was $159,300.
Most of the food produced at Cornman Farms will continue to go to the Roadhouse even with the expansion, although Young does plan to begin providing goats' milk for the creamery to make cheese. Zingerman's Bakehouse already is using roasted peppers from his farm for one of its breads.
Young enjoys educating people, especially children about food, and is excited about using the new property to further those efforts.
"As a chef and more recently a farmer, I think it's a nice way to give back to the community," he said. "A lot of people don't have an opportunity to talk about where food comes from. … Food doesn't come in a box. It's growing."