Family sifts through remainder of home following destructive fire
Posted on Wed, Aug 29, 2012 : 2:59 p.m.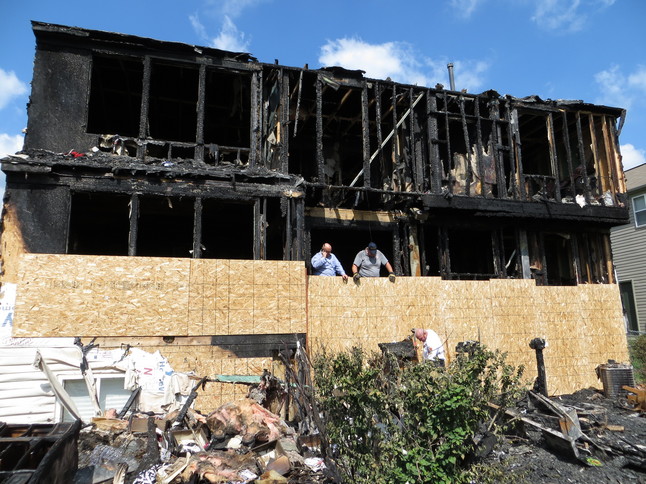 Kyle Feldscher | AnnArbor.com
There's a distinct kind of agony in being thousands of miles away from home while knowing your house is burning down — and not being able to do anything about it.
Unfortunately, that's the situation Chad Johnson, of Ypsilanti Township, was thrust into Tuesday evening.
Johnson was sitting down to dinner in Dallas when he got a call from his wife, Jacqueline, informing him that their home at 8184 Thornhill Drive was on fire. After getting assurances that she and the couple's 2-year-old son were out safely, Johnson did the only thing he could: caught the next flight back home.
The time seemed to fly by, he said.
"I was so focused on making sure they were taken care of and my wife was taken care of because she was still here with the Red Cross," he said, "so the flight went relatively quickly. In terms of what I was thinking, I was just trying to make sure she was OK and my son was OK."
Firefighters were sent to the home at 7:52 p.m Tuesday after being notified of the fire. Capt. Brad Johnson, of the Ypsilanti Township Fire Department, said the blaze started in the back of the home. The exact cause was still under investigation as of Wednesday afternoon. One firefighter had been treated for second-degree burns and was released from medical care Tuesday.
Greg Katcher, Chad Johnson's friend who was at the home with him Wednesday afternoon, said he had been asked to go to the house once Johnson heard about the fire. Katcher said he was told there were three noises that sounded like explosions in the back of the house. That's when Johnson's wife noticed flames shooting up the rear wall.
The fact that the back of the house is still standing is a minor miracle — all that remained of much of the home was charred beams. Each footstep in the backyard was greeted with a crunching noise on the ashy debris that had fallen away during the blaze.
Katcher said he didn't know what the explosions were — the propane tank in the gas grill off to the side of the backyard was charred but mostly intact Wednesday — but Johnson's wife was lucky to be in the front of the house when the fire started.
"The fire started in back and rolled up the wall and got underneath the overhang," he said. "It went between the upstairs and downstairs floor, that's why it went up so fast."
Katcher said Jacqueline told him she got two of the family's miniature pinschers out of the home when she fled with her son. After a neighbor took the dogs and the 2-year-old child, she went back inside but slipped and fell, hurting her leg. She fled the burning home and managed to see the third dog, Lucy, looking out the front window of the home.
Katcher said she watched in terror as Lucy attempted to get out before a section of the roof fell. The dog disappeared and has not been located since, he said. There remains a sliver of hope that Lucy somehow survived because no remains have been found in the home.
Lucy is a brown and black miniature pinscher. Anyone who might see the dog is encouraged to contact authorities.
The family has since relocated to a hotel, where Johnson and his wife are going to have to figure out the next step to take.
Johnson seemed to be in a daze as he sifted through what remained of his family's belongings and spoke with people from his insurance company. He said it was hard to comprehend what they had lost — he had just received some of his deceased mother's possessions and had finally finished the home's basement earlier this year.
The bedroom near the back of the home that had housed his mother's possessions was a blackened hole Wednesday morning.
"Eventually, I'll be able to take it in, but I've got so much coordinating to figure out that I don't really have time to think about it," he said. "That's what I'm trying to do, trying to keep my focus on getting the situation handled, find a safe place to live, locate our dog and then maybe reflect on it later."
Katcher stuck around Wednesday afternoon, doing his best to give his friend an optimistic outlook on things.
It was a dire situation, he said, and he felt terrible that his friend has to go through it. He fears that Johnson might move out of state because the house can't be repaired.
"One guy said, 'You may have lost memorables, but you don't lose memories.' Another firefighter said, 'Tell your buddy that everything he can't buy to replace is OK,'" Katcher said. "And, that's the most important thing."
"Those are the things that really start to hit home and people realize what's really important," he added later. "You don't need another $10,000 on your salary if you've got … your family in order."