Ypsilanti City Manager to unveil 5-year budget turnaround plan Oct. 30
Posted on Wed, Oct 17, 2012 : 5:55 a.m.
City Manager Ralph Lange said he plans to unveil his five-year plan to turn around the city's finances and return the budgets to a sustainable model at a special council meeting Oct. 30.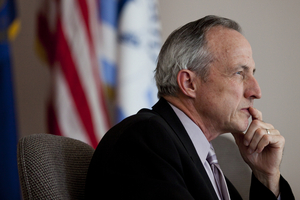 "I would like to roll this out to city council," Lange said. "I really think it's important and that I deliver on that to you. I think it's a big deal."
The plan, which Lange has named the City Master 5-year Budget Turnaround Service and Sustainable Plan, is expected to put the city on right financial footing.
Lange previously said city staff was in the process of breaking down the city's various budgets to create a clearer picture of the city's finances.
Early projections show the city is facing a possible $4 million deficit for fiscal year 2016 and $4.6 million in 2017.
Lange said those projections will change as his staff continues to delve into the city's finances. Between January 2012 and January 2013, Lange is expecting the city will lose 15 full-time employees through attrition and retirements. Of that number, only three of the jobs will be replaced.
As part of his efforts to ensure the city maintains its basic services while being cost effective, Lange is developing a plan to combine police and fire departments into a single department.
The concept calls for the city to cross-train firefighters and police officers to fulfill both jobs.