Ypsilanti charter school student competes in Scripps National Spelling Bee
Posted on Wed, May 30, 2012 : 2:59 p.m.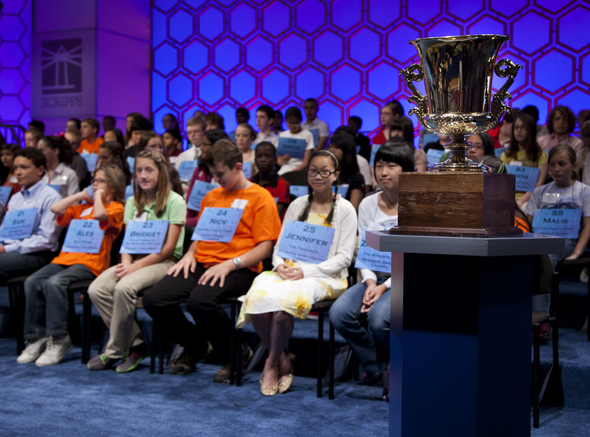 AP Photo I Evan Vucci
Update: 12-year-old Ypsilanti girl only speller from Michigan left in contest
A seventh-grader from South Arbor Charter Academy in Ypsilanti will test her vocabulary in Maryland this week at the nation's largest and longest-running spelling competition.
Kavyapranati (Kavya) Pratapa, 12, is one of 278 spellers in the 2012 Scripps National Spelling Bee today and Thursday.
Kavya made it through the first two rounds of preliminary competition today. The semi-finals will take place Thursday morning with the finals Thursday night.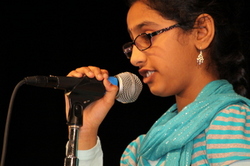 AnnArbor.com file photo
Of the 12
Michigan
students to advance to the national bee, Kavya is the only student from a charter school.
This is her third appearance in the Scripps National Championships. She competed in 2010 and 2011.
South Arbor Dean Jen Watenpool said Kavya is a very dedicated, well-rounded student, who participates in the school's accelerated learning program.
"I know her family works tirelessly all year to prepare for this spelling bee," Watenpool said. "They practice every day. Recently I asked her if she felt more ready than the last time, and she joked that the only way she could be more ready would be to memorize the dictionary."
On Friday, before the Pratapa family left for the East Coast, the school recognized Kavya's accomplishment in making it to the national championships. Watenpool presented Kavya with a candy bouquet of road trip snacks.
The dean said Kavya's teacher Melissa Nichel has allowed the class to tune in to the live coverage on ESPN throughout the day. Watenpool said Kavya's peers are pretty excited for her.
In order to make it to the national bee, Kavya took first place in the school's spelling bee as well as a Scripps regional bee conducted at Willow Run Community Schools.
There are students from all 50 states, the District of Columbia, American Samoa, Guam, Puerto Rico, the Virgin Islands, the Bahamas, Canada, China, Ghana, Jamaica, Japan, New Zealand and South Korea.
According to Kavya's profile on the national spelling bee website, when she's not spelling, she enjoys reading fiction and classical literature. She also is an aspiring musician and plays both the flute and the violin. She won second place at an Indian music competition in Detroit recently.
Kavya is speller No. 127. View the results of the Scripps National Spelling Bee as they trickle in here.
Also watch a live feed of the competition on ESPN, or follow the national bee on Twitter @ScrippsBee.
Staff reporter Danielle Arndt covers K-12 education for AnnArbor.com. Follow her on Twitter @DanielleArndt or email her at daniellearndt@annarbor.com.