Ypsilanti Courier:

Ypsilanti Boy Scout aims to raise $11K for repairs at Candy Cane Park

Posted on Thu, Sep 27, 2012 : 4:09 p.m.
An Ypsilanti Boy Scout is raising funds to go toward renovating the Candy Cane Park tennis courts, the Ypsilanti Courier reports.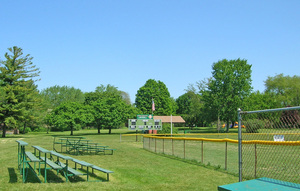 Courtesy of the city of Ypsilanti
Zachary Denoyer
, of Troop 290, told the Courier he wants to renovate the courts as part of his Eagle Scout Leadership Service Project so that the local community can continue to have access to it.
The city shuttered its parks and recreation department in 2003.
Denoyer estimates the total cost of the project to be $11,900 and he expects to raise all of the funds through fundraising. He hopes to finish his project before December.
Candy Cane is a 7 acre neighborhood park in the northwest corner of Ypsilanti. The park has a baseball field, tennis courts, play equipment and picnic facilities.
Read the full story here.