WISD's WAY program helping at-risk students work toward high school diploma, officials say
Posted on Tue, Mar 15, 2011 : 8:45 a.m.
Note: Shanen Woods' name has been corrected
Shanen Woods
believes she's turned around her life since August.
After joining the Washtenaw Intermediate School District's Widening Advancements for Youth (WAY) program, Woods, of Ypsilanti, said she believes she's on her way to making her life better than it could have been before she joined the program.
"It's taken me to get my own high school diploma," she said, after being asked where the WAY program was taking her. "After I get it, I'll go to college and make something out of my life to support me and my children."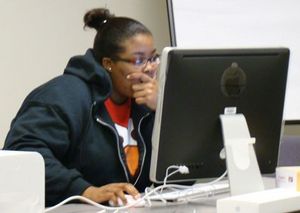 Allexis Ford works on a WAY project earlier this school year.
Photo courtesy of the WISD
WAY is a project-based pilot program designed to help students who have dropped out or are at risk of dropping out earn their high school diploma. All 10 traditional Washtenaw County school districts have students in the program.
Sarena Shivers, interim assistant superintendent of school services for the WISD, said the program has 234 students — 70 of which were considered to have dropped out of school before entering the program.
When speaking to the Ypsilanti school board on Monday, Shivers said students have earned an average of 1.3 credits toward graduation since the beginning of the year. While that may not sound like a lot, Shivers said it speaks to the program's progress.
"We have some students in the program who have been in high school for three years and have zero credits, or two or three credits," she said, adding some students in the program will graduate this year because of their work in the program.
Shivers said leaders are evaluating the first year, which will help them decide how to shape the program for the next few years.
Among the goals for the next school year were to add sites around the county, possibly in local libraries, where students in the program can go to work on their projects. Project choices, which can be in subjects like photography or cosmetology, are at the discretion of the student, who is called a researcher and must find a cross-discipline interest area and use technology to work on his or her project.
Projects are available to be worked on at any time, including holidays.
Shivers said WAY leaders are hoping to enroll an additional 180-200 students in the next school year. The wait list currently has about 150 students, she said.
"We're working to get the profile of a student that's successful in the program," Shivers said. "What does that student look like and what do they need to be successful."
Sean Fountain, one of two team leaders in the program, said letting students choose the projects guarantees they'll be interested in the subject matter.
Jessica Horste, another team leader, gave examples of how both students and mentors in the program have handled various situations, such as working through projects until the early morning hours or working on holidays.
She said grading in the program is always done in a upbeat manner, highlighting what the student did well and where he or she can grow.
"It's always done in a positive light," Horste said. "You want them to feel good about what they've done and tell them how they can expand to do better. The researchers (the WAY program word for students) can talk to who grades them directly."