Ypsilanti City Council members walk out of meeting after heated discussion
Posted on Wed, Aug 22, 2012 : 5:58 a.m.
A heated discussion regarding the Ypsilanti Housing Commission and its financial woes caused two City Council members to walk out of the meeting Tuesday.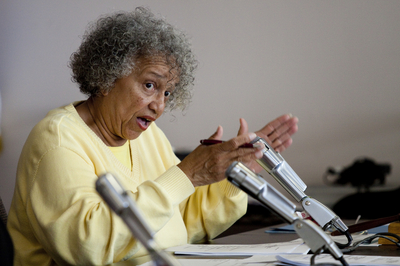 Jeffrey Smith | AnnArbor.com
Mayor Pro Tem Lois Richardson and Council Member Ricky Jefferson left the meeting after expressing displeasure in the leadership of the YHC and the recent transfer of the Section 8 voucher program, which provides funding for low-income housing. They were particularly upset at Mayor Paul Schreiber's refusal to remove housing commissioners from office.
"We have been dealing with this issue for years," Richardson said. "It's not something that has just come up. It's like a boil that took some time to explode… We lost a very valuable program in the city. We should have acted."
Jefferson told AnnArbor.com he decided to walk out because he is frustrated with the way things have transpired.
"We've tried to get them to be open with us, we've had a lot of meetings with the commission," Jefferson said. "The more we talked to them the less we would get. Walking out is basically saying that not only do we rescind our support and approval of those on the board, but today we're saying we're removing our support from Mayor Schreiber not recommending them to be removed."
The Housing Commission has been under fire from the federal government, which has cited a litany of financial and management problems. A U.S. Department of Housing and Urban Development report cited dozens of issues with YHC leadership, its Board of Commissioners, the agency's financial management and the condition of its properties. Among those were poor and questionable accounting practices and $20,000 in unaccounted for funds.
HUD delivers federal funding to local housing commissions that manage property for low-income residents, and the agencies must comply with strict HUD guidelines and standards.
In July HUD notified the commission that its Section 8 voucher program faced a "significant and unrecoverable" $228,407 shortfall in funding.
At its Aug. 14 meeting, the city council voted unanimously, with Schreiber absent, to pass a resolution that rescinded its support of the initial appointments of the housing commissioners Ma'Cheryl Jones, Deborah Strong, E. Renee Smith, and Bernice Ethington.
Despite the resolution's passage the City Council does not have the power to remove commissioners, only the mayor does.
Commissioners are nominated by Schreiber and approved by City Council.
Richardson asked Schreiber to exercise his power to provide council with a resolution that would effectively remove the housing commissioners from office.
Schreiber said he was "not prepared" to do so at that time.
"Council says it is trying to protect affordable housing," Schreiber said. "The action council took was counter to that… We need a working commission. If we just dismiss the housing commission with no one to come in its place, we will be jeopardizing affordable housing, and I will not let that happen."
Schreiber said council's resolution was a "half-baked" way to get around state law.
"Once people are in public office, you can't undo that," he said. "I think council needs to get a grip and we need to support our commissioners that we have at this time."
Council Member Daniel Vogt told Schreiber that council's resolution was only a way of council showing the lack of confidence it has in the YHC.
After Schreiber declined to remove the commissioners, Richardson then moved to adjourn the meeting and hold a closed session to discuss the matter. A closed session was already scheduled to take place at the end of the regular meeting to discuss contract negotiations.
Council members Brian Robb and Jefferson supported and voted in favor of the movement, but Schreiber, and Council Members Daniel Vogt and Michael Bodary voted against it, tying the vote. Since Richardson was unable to secure enough votes, the meeting was not adjourned. That's when the two walked out.
Jeffrey Smith | AnnArbor.com
Bodary said he understood the frustration with the YHC and agrees it needs to be revamped but said he was in favor of giving the mayor more time to sort the situation out.
"There is not a cure for this," Bodary said. "I just do not believe we need to stop the housing commission in its tracks by firing them all now without replacing them with the skill set that HUD has told us to find."
However, Bodary said his patience is running thin, and he wants to see a search under way for new commissioners by the Sept. 18 council meeting.
"We really need to do a fast and furious search," he said. "We can't go on with these people that have allowed this to happen right under their nose. ... I will be patient with you for a short time longer but my patience is going to run very thin by next council meeting."
The scheduled closed session occurred at the end of the meeting and at that point, Jefferson and Richardson returned.
Earlier this month, The U.S. Department of Housing and Urban Development decided against offering an alternative to the Ypsilanti Housing Commission that would have enabled the commission to keep its Section 8 voucher program.
The commission signed a resolution Aug. 13 enabling Interim Director Eric Temple to transfer the program to the Michigan State Housing Authority. HUD said the transfer may be effective permanently.
The YHC operates 218 public housing units and the commission has 271 Section 8 vouchers — not including the 68 that have yet to be made available for people seeking to live at Hamilton Crossing, the former Parkview Apartments at South Hamilton and Harriet.
MSHDA will now be responsible for all of the Section 8 vouchers.