Posted on
Fri, May 10, 2013 : 5:59 a.m.
The Color Run Ypsilanti: What you need to know about Saturday's event
By Katrease Stafford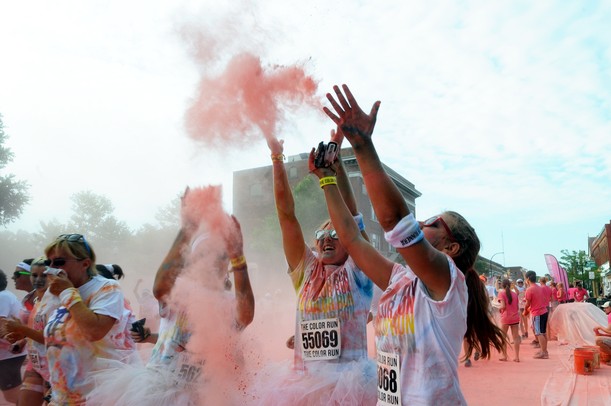 Melanie Maxwell | AnnArbor.com file photo
As 15,000 people prepare to participate in The Color Run event Saturday, the Ypsilanti community is gearing up to welcome the large crowd.
"I think anytime you have thousands of people flocking to any place, it's going to be a big impact," said Christine Laughren, manager of marketing and communications for the Ypsilanti Area Convention and Visitors Bureau. "15,000 runners coming into town, it's just great exposure for the city. The businesses are a lot more prepared and ready for the economic impact... It's a great perfect match."
AnnArbor.com has put together a guide with everything event participants, spectators and Ypsilanti residents should to know.
Security precautions in place
In light of the Boston Marathon bombings, The Color Run, the Ypsilanti CVB and the Ypsilanti Police Department have worked actively over the past few weeks to increase security precautions at the event.
The department issued a release with the following security procedures and suggestions for the event:
Proper credentials will be required to enter the appropriate areas. Participants and spectators must follow the directions of volunteers and officers to accessible areas.
There will be no baggage check-in or storage for the event. Participants must put items in a clear plastic bag to check in at the packet pickup station.
Don't stash items behind a bench, under a bush or under a car. They will be disposed of during security sweeps. Volunteers or spectators wearing a backpack or carrying a bag may be subjected to a search of items by police at any time.
If individuals or actions which are unusual or out of place for the surroundings are observed, it should be reported to staff or safety officials.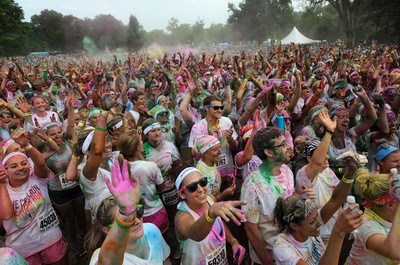 Melanie Maxwell I AnnArbor.com file photo
"They beefed it up this year because of the incident in Boston, so after that we all got together with The Color Run and police department and talked about how things have changed a little bit and what we can do make it more secure," Laughren said.
Street closures and race route
As a precaution for the race, the city will be closing several streets at 7 a.m. Saturday, Laughren said.
The following streets will be be closed:
Cross Street from North River Street to College Place
North River Street from Cross Avenue to Forest Avenue
Forest Avenue from North River Street to College Place
Lowell Street from North Huron River Drive to Forest Avenue
College Place from Forest Avenue to Cross Street
Hamilton Street from Lowell Street to Michigan Avenue
Westbound Michigan Avenue from Hamilton Street to North Huron Street and North Huron Street/Huron River Drive to Lowell Street
No on-street parking will be allowed beginning at 6 a.m. and any parked vehicles will be towed. Laughren said streets will begin to reopen at approximately noon, after the runners have passed through.
The route will be the same as the first event last year, in which onlookers tossed colored cornstarch at those running or walking in the 5K event.
Runners will begin in Depot Town and continue to Eastern Michigan University's campus and downtown Ypsilanti, finally ending back in Riverside Park.
Riverside Park will be transformed into the "race village" and the starting line will be right across the river on Cross Street in Depot Town. The race starts at 8 a.m. and runners will not all start at once, but will begin in waves.
Available parking for the event
Designated parking areas on Eastern Michigan University's main campus will be open for event participants. All parking will be $10 per vehicle. Officials are advising participants to carpool if possible.
Organizers said the lots listed below are the only ones available for The Color Run. The other EMU lots will be closed. Additional parking will be available at the Corner Brewery, Key Bank parking lot and the non-paved grass field at the corner of Norris and River streets.
Melanie Maxwell | AnnArbor.com file photo
Parking Lots open off of Huron River Drive:
Green Lot 1
Mayhew Lot 1
Ann Street Lot
Parking Lots open off of Washtenaw Avenue and Oakwood Street:
Oakwood Lot South
Oakwood Center Lot
Oakwood Lot North
Parking Structure
McKenny Guest Lot
McKenny Staff Lot
Free trolley service:
The Ypsilanti Convention and Visitors Bureau will be offering two free trolley services from 10 a.m. to 2 p.m. to make it easier for participants and spectators to get around. Laughren said the trolleys will be free and open to the general public as well.
The two trolleys will stop along various spots on a route through Depot Town, downtown, and the Campus Town areas, Laughren said.
The trolleys will take roughly 15 to 20 minutes to complete the route.
Trolley stops will be at:
Norris Street and Forest Avenue
Summit Avenue and Washtenaw Avenue
River Street and Michigan Avenue
River Street and Cross Street
Hamilton Avenue and Michigan Avenue
Early business openings and deals around town:
Laughren said several business owners around town will be opening early and offering deals Saturday. The Color Run event last year was the busiest day of the year for many business owners.
The visitors bureau reached out to many owners to see if they would be interested in offering any special plans.
"Linda French (owner of Sidetrack Bar and Grill) said her best weekend of all time was The Color Run," Laughren said. "It terms of economic impact, it's really great exposure for the city of Ypsilanti."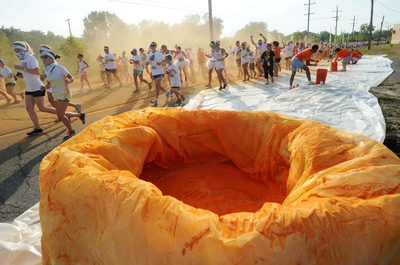 Melanie Maxwell | AnnArbor.com file photo
Wolverine Grill Owner Kevin Hill said he opened early last year at 6 a.m. and it was the busiest day of the year for him.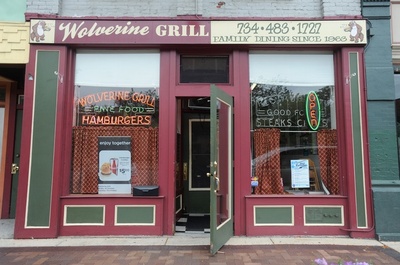 "The effect was very positive," Hill said. "This year, I think there's much more preparation from business to business. I think everyone is going to do well and that's good. We're looking to serve as many people that come in."
Hill said he'll be bringing on a few extra employees to help with the increase in business.
Bona Sera owner Annette "Bad Fairy" Weathers said she's excited to participate in the event and will be opening early.
"We're on the route that goes on Michigan Avenue and it's going to come right by our place," Weathers said. "We're going to have an outdoor cafe and it will be great to watch The Color Run from the tables outside."
Below, see a video of the 2012 Ypsilanti Color Run:
Katrease Stafford covers Ypsilanti for AnnArbor.com.Reach her at katreasestafford@annarbor.com or 734-623-2548 and follow her on twitter.