Residents: Sewage, rot, fire hazards plague apartment complex
Posted on Fri, Sep 28, 2012 : 2:59 p.m.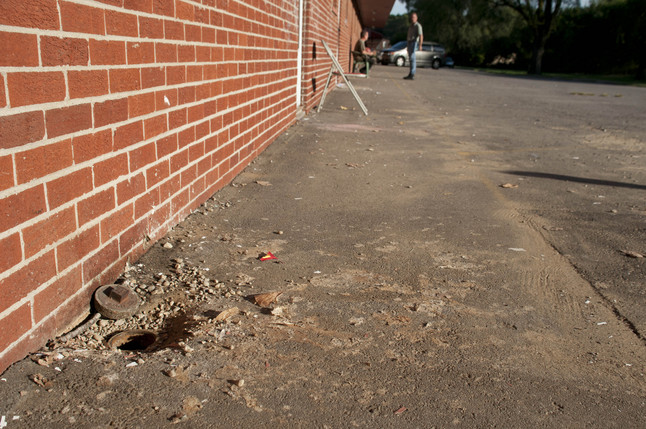 Tom Perkins | AnnArbor.com
Editor's note: This article has been updated to reflect a name change for the apartment complex.
Outside Shannon Herrington's apartment at an apartment complex on Riley Court complex in Ypsilanti Township there is dried toilet paper and sewage caked to the ground. They're the remnants of a puddle of raw sewage tenants say sat outside the building for several weeks before management finally cleaned it up and tried to fix the problem.
But even now, a township building inspector says the repair wasn't done right, and residents in the immediate area still have backups and plumbing issues they say are caused by the sewage line.
Residents also allege that management at the Stewart Beal-owned Beal Properties tried to charge them $600 to repair the leaking line.
The puddle of raw sewage is just one of a litany of problems residents say they deal with at the complex, formerly known as Riley Court and now called MeadowRidge, and Ypsilanti Township is now asking a Washtenaw County Circuit Court judge to order the property brought up to code.
The township charges in court documents that the complex is riddled with safety hazards and a range of code violations from serious to minor that affect residents' safety and welfare.
Beal said Ypsilanti Township recently notified him of "various concerns with the way the property was being managed."
"I quickly determined that the manager this property had been entrusted with was not managing the property to our standards," Beal said. "This manager was removed and a new manager has been put in place. Violations identified by the township are being corrected."
Officials say the complex has also been a drain on police resources and required more than 100 visits from the Washtenaw County Sheriff's Department deputies in 2012 alone. The complex has seen a stabbing and shooting in recent months, and tenants complain that Beal doesn't conduct a background check on new residents.
Officials say the violations and issues at the complex off Michigan Avenue outlined in the Sept. 4 lawsuit are shocking, even for a township staff that has mounted a blight reduction campaign for several years.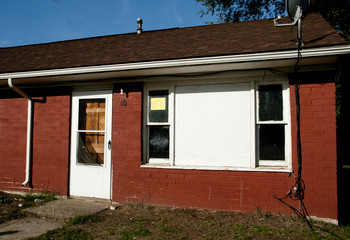 Tom Perkins | For AnnArbor.com
Residents say maintenance workers have been painting the exterior and spreading mulch throughout the complex since the lawsuit was filed, but they and township officials aren't impressed.
"It's like putting lipstick on a pig," said Mike Radzik, director of the office of community standards. "There are core life safety problems, and (management) thinks they are solved if the buildings look nice on the outside."
Edward Collazo recently noticed a wall in the apartment he shares with his girlfriend is bulging and going soft because of standing water in the neighboring apartment.
"They don't do nothing except fix the outside so (the court) don't shut them down," said Collazo, who has a range of issues in his apartment he says management hasn't fixed or was slow to address. "They're out there painting instead of fixing my wall that's about to bust out."
The apartment next door to Collazo's was recently ordered vacated by a Washtenaw County Circuit Court judge at an emergency hearing.
Ypsilanti Township building officials were called there by the tenant.
The hardware that controls the water in the bathtub had fallen out and the tenants were turning water in the shower on and off with a large pair of pliers. When they did it turn on, it spewed water through the wall into an adjacent bedroom, where a puddle had formed in the carpet.
An extension cord plugged into the wall in the bedroom ran through the wall where the water was shooting. That cord led to a basement crawl space, where it was spliced into another cord that led to the hot water heater, which created a serious fire hazard.
Additionally, the large front window to the apartment was only a plexiglass sheet that had been partially melted when a car was set on fire in the parking lot about 10 feet away.
Now the problem also belongs to Collazo as the standing water in the empty apartment deteriorates the wall.
And it's not the first issue Collazo and his girlfriend have had there. Mold is growing in their bathroom, the crawl space below their home is flooded, their windows do not fit in the frames correctly and his 4 year-old daughter's bedroom window was nailed shut by the maintenance staff until township officials requested the nails be removed, Collazo said.
Collazo and his girlfriend plan to move out when their lease is up at the end of the year.
In several court documents, township officials charged there are a variety of issues including serious electrical and fire hazards, windows that don't fit, serious plumbing problems, broken windows, trash littering the property, rotting door and window frames, windows nailed shut, non-functioning fire alarms, mold, general decay and more.
Rent at the complex ranges from $395 to $450 per month, and Radzik said some of the residents are unable to afford higher rent at a better complex.
Jennifer Brown said her rent was just raised after the old building manager left. The doors and doors don't fit, she said. She has issues with her deteriorating plumbing fixtures and said the tile in her floor is breaking apart.
Brown, who has lived there for a year with her 6-year-old son, said her heater doesn't work and she "froze" all last winter. She said management told her to open her oven when she requested it be repaired.
Brown said she put in more than 30 maintenance requests but most have gone ignored. She said she has tried to talk to Stewart Beal but he always directs her to someone else.
"It's unreal. They don't want to fix anything," she said.
Brown also said complaints go on a waiting list, and maintenance workers have tried to charge her if she sees them at the complex and asks for help.
Shannon Herrington lives several doors down from Brown and also said maintenance people have tried to charge residents to fix problems that are Beal's responsibility.
While the sewage line was broken, she and her boyfriend couldn't use the toilets and their bathtub would back up. They had to use neighbors' bathrooms and shower at their parents' homes.
But she said the maintenance people have changed their attitude since the township filed its lawsuit.
"All of a sudden they're coming around all nice asking if there's anything we need fixed," she said.
Herrington's lease is up soon and she plans to move.
"They even had the nerve to ask if I wanted to renew my lease," she said.
Radzik said a fresh coat of paint is low on the township's priorities for the complext.
"It breaks my heart to see small children living around these conditions," he said. "We're going to do everything we can to get the complex brought up to code and minimally safe. And request some kind of ongoing maintenance so it doesn't fall back into extreme disrepair."