Teenager confesses to break-in, charged with stealing handgun from Ypsilanti Township business
Posted on Mon, Jul 16, 2012 : 11:52 a.m.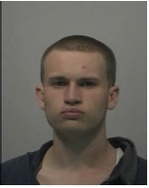 Courtesy of the Washtenaw County Sheriff's Office

An Ypsilanti Township teenager confessed to breaking into a medical instruments business in the township last week and is charged with two felonies related to the case, sheriff's deputies said.

The Washtenaw County Sheriff's Office reported a man contacted investigators and told them he recognized Blair Howell, 17, in published security camera photographs. After that tip, deputies contacted Howell and found clothes in his home matching the ones pictured in the security camera footage, the sheriff's department reported in a media summary.

Howell later confessed to breaking into X-Ray and Specialty Instruments, located at 1980 E. Michigan Ave., at 12:44 a.m. July 11, deputies reported.

Investigators said Howell pried open the front door to the business with an unknown object. He then took a handgun from a desk drawer, opened a pop vending machine and stole cash and coins, they said.

Howell has been arraigned on charges of burglary and larceny of a firearm, deputies reported. He is being held in the Washtenaw County Jail on a $5,000 cash or surety bond, jail records show.

He has a preliminary examination set for 8:30 a.m. July 24 at the 14A-1 District Court in Pittsfield Township, jail records indicate.