Street newspaper's request for permission to sell in Ypsilanti Township rejected
Posted on Wed, Oct 10, 2012 : 5:57 a.m.
The Ypsilanti Township Board of Trustees will not permit a street newspaper's homeless and poor vendors to sell papers along Washtenaw Avenue.
Groundcover News asked the Board of Trustees to approve a peddlers' permit so its vendors could offer their papers on the township's public property.
The board rejected the request this week by a vote of 6-1. Clerk Karen Lovejoy-Roe was the lone vote for granting the permit.
The board tabled a request from Groundcover a month ago so township staff could gather more information about the paper.
Greg Hoffman, a representative from Groundcover, explained the paper is sold by "housing insecure" residents, which means people who are homeless, people who are unemployed and at risk of eviction, or those receiving government assistance but still in need of additional income.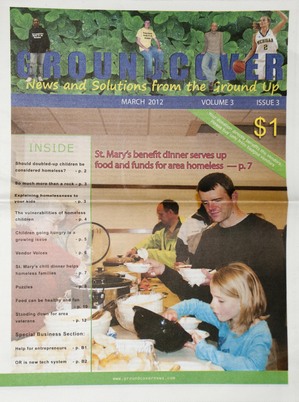 Tom Perkins | For AnnArbor.com
Vendors purchase copies of Groundcover from the organization for 25 cents and sell for a suggested donation price of $1. Hoffman said vendors would stay on sidewalks and public egresses at the exits of fast food restaurants, for example.
Its 100 or so vendors sell in Dexter, Ann Arbor, Pittsfield Township and Ypsilanti. Around 25 vendors sell daily.
Board members expressed skepticism that such a business model would work in Ypsilanti Township where there is little foot traffic and vendors would mostly have to hand the papers off to people in cars coming out of businesses. Among the concerns was that it could potentially cause accidents and disrupt traffic along a busy corridor.
"I'm not real comfortable. I appreciate what they're doing, but I'm not comfortable," Supervisor Brenda Stumbo said.
The vendors have been most successful in Ann Arbor where there is heavy foot traffic, but Hoffman and several vendors who spoke to the board on Friday said the paper is growing quickly and vendors selling the paper are starting to saturate the Ann Arbor market.
The paper was launched in June 2010 and held a circulation of 3,500 several months ago, but that has grown to 6,000, Hoffman said. He said street newspapers are gaining popularity in large, urban areas because they allow poor or homeless individuals to work for money rather than simply panhandling.
Vendors are not permitted to ask for more than $1, Hoffman said, but he added customers often give tips. There is no set amount of papers vendors need to buy. Some buy just a few, while others buy and sell hundreds per week, Hoffman said.
"It increases the opportunity for people to take command of their financial situation and become self-sustainable through this employment opportunity," he said.
Groundcover, a 501c3 nonprofit, provides vendors with incentives based on the number of papers they sell. Some vendors set up at one spot regularly while others change locations, and most sell during the afternoon and evening.
Volunteers with the paper and local community members contribute articles, poetry and essays to the paper.
Groundcover isn't a unique model, but it is unique in that it is sold and successful in a less populated area than other street newspapers, Hoffman said.
But Trustee Mike Martin said he was wary of the program and said Ypsilanti Township is inherently different from Ann Arbor.
"We don't have a downtown area. How and where would you be successful?" he asked. "How is this going to impact residents as far as safety and traffic flow? I can't really at this point …. I want these folks to be successful and to strive to do so. But in order to do so, they have to be in the right environment. I don't know if the township is the right environment."
Trustee Scott Martin and Treasurer Larry Doe both said they are uncomfortable when they stop at a traffic light and are approached by a panhandler. They said they feared motorists pulling out of fast food restaurants or stores along Washtenaw Avenue might feel the same and that could lead to a dangerous situation.
"Rather than take the time to ensure traffic is clear, I have a tendency to want to pull out right away," Doe said. "That could cause an accident."
Lovejoy-Roe put forth a motion to give Groundcover a 30 day trial period, but that found no support.
Board members also questioned why more vendors weren't taking advantage of being permitted to sell papers in Pittsfield Township, which shares that portion of the Washtenaw Ave. corridor with Ypsilanti Township.
Hoffman said some have, but there is some concern among vendors about where Pittsfield Township ends and Ypsilanti Township starts.
James Woods is a Groundcover vendor who lives in Pittsfield Township and said he has sold there on several occasions with some success.
"I got a good response in Pittsfield," he said. "People got the paper, and a couple thanked me because it's a good paper."
He underscored that the paper is expanding and the approximately 100 vendors working for Groundcover need new areas to sell.
"We are trying to expand so it's more lucrative for the vendors," he said. "It's a small business for the contractors, and the paper has a lot to offer."
But board members remained skeptical.
"Bring back a positive model and say 'This is how we can make it work in Ypsilanti Township'. Then I would be more inclined to buy into a temporary or trial period," Trustee Mike Martin said.
After the meeting, Hoffman and Woods said they planned to start pushing for vendors to work more in Pittsfield Township and would come back to the Ypsilanti Township Board of Trustees if they were successful.