Prosecutors given another week to contemplate proposed plea agreement for man accused of shooting 3
Posted on Tue, Sep 25, 2012 : 11:12 a.m.
Washtenaw County prosecutors will continue to ponder a plea agreement offered by the attorney for a man accused of shooting three people near Eastern Michigan University in March.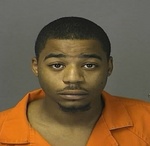 From Ypsilanti Police
Quenton Dodson, 24, is facing 13 felonies for a March 23 incident in the 300 block of Jarvis. According to police, Dodson shot three men during a drug deal.
Washtenaw County Assistant Public Defender Stephen Adams, Dodson's attorney, said in court on Monday prosecutors are still mulling over a plea offer made by the defense earlier this month.
"I'm advised today he's (Washtenaw County Assistant Prosecutor Paul Barnett) unable to come to a decision on that and would like another week," Adams told Washtenaw County Trial Court Judge Melinda Morris.
Morris granted a one week adjournment and Dodson will return to court at 1:30 p.m. Oct. 1 for a pretrial hearing.
According to police, Dodson was attempting to sell Oxycontin to four people when the deal suddenly fell apart. Police said Dodson pulled out a gun and fired on the group, injuring three people between the ages of 18 and 20. One man was hit in the stomach, one suffered a hip wound and another was struck in the chest. All of them survived the incident.
No one involved in the incident was associated with Eastern Michigan University. EMU Police officers assisted Ypsilanti police in the investigation. Dodson was eventually arrested in Detroit and brought back to Washtenaw County to face charges.
Dodson is charged with three counts each of assault with intent to murder, assault with intent to do bodily harm less than murder and four counts of assault with a dangerous weapon. He also is charged with carrying a concealed weapon, being a felon in possession of a firearm and carrying a firearm during the commission of a felony.
If convicted, Dodson faces a maximum of life in prison.
Dodson has two previous convictions for breaking and entering, according to state records.