Posted on
Tue, Apr 23, 2013 : 5:58 a.m.
Police investigating if Pittsfield Township shooting and Ypsilanti Township sexual assault are related
By Kyle Feldscher
Investigators from local police agencies are working to determine if the man who sexually assaulted a woman in Ypsilanti Township also is the suspect in a Pittsfield Township shooting.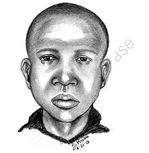 Sketch courtesy of the Pittsfield Department of Public Safety
The composite sketches released by the Pittsfield Township Department of Public Safety and Washtenaw County Sheriff's Office from two recent incidents look similar, although physical descriptions of the suspects differ. Pittsfield Township Deputy Police Chief Gordy Schick said the composite sketch has been distributed to detectives at police agencies throughout the county.
The 20-year-old woman who was shot in the head has been released from the hospital, Schick said.
"She's stable and has been released from the hospital," he said. "She was initially taken with non-life threatening injuries."
The woman had gotten off the bus at the Golfside Road and Washtenaw Avenue AATA stop on her way home from work. She walked to her apartment on the 4900 block of Lakeridge Drive when the man approached her.
The man grabbed her purse and put a gun to her head, instructing her to remove her clothing while forcing her to the ground. The woman fought back and the man shot her in the left side of the head. Police were dispatched at 10:35 p.m. Friday.
The man is described as an 18- to 20-year-old black man, about 5-foot-8 with a thin build, no facial hair and a bald head. He was wearing a hoodie and all dark clothing. He is still at large and considered armed and extremely dangerous.
The sketch released Sunday in that incident is similar to a sketch released Thursday by Washtenaw County Sheriff's Office investigators for a sexual assault that took place on April 15.
In that incident, two men approached a 21-year-old woman at 5:30 a.m. near Cary Drive and Textile Road in Ypsilanti Township. Deputies did not release more information about the incident, other than to report the woman was sexually assaulted.
Washtenaw County Sheriff's Office Sgt. Geoffrey Fox said the sketches do look similar but the physical descriptions of the two suspects are different.
"We're communicating with them to determine if there are any similarities," Fox said. "The physical description from ours and theirs, there are some drastic differences."
The first suspect, depicted in the composite, is described as a black man with a dark complexion in his 20s. He is taller than 6 feet and has a thin build.
The second suspect has a light complexion and is about 5 feet 6 inches tall with a medium build, deputies said. He has a mole or birth mark on his left cheek.
Fox said deputies searched Friday for the Pittsfield Township suspect in the Camelot Apartments across the street from the area where the Pittsfield Township shooting took place. The earliest log of deputies being involved in the search for the man was 10:53 p.m., but Fox said they may have been dispatched to the area before then.
Ann Arbor Police Department officers also assisted in the investigation with a K9 unit, Schick said. Pittsfield Township and Ypsilanti police have been sharing a K9 unit since December, but Schick said that unit was not available Friday night. Pittsfield Township and Ann Arbor police have a mutual aid agreement for those types of situations, Schick said.
The Pittsfield Township sketch was made by the Michigan State Police.
Police are still searching for tips in both cases. Anyone with information on the two cases is encouraged to call the Pittsfield Township police at 734-822-4911, the Washtenaw County Sheriff's Office anonymous tip line at 734-973-7711 or Crime Stoppers at 1-800-SPEAK UP (773-2587).
Kyle Feldscher covers cops and courts for AnnArbor.com. He can be reached at kylefeldscher@annarbor.com or you can follow him on Twitter.