WXYZ:

Owner of controversial rooster says her pet has been threatened

Posted on Thu, Jul 26, 2012 : 6:28 p.m.
The fight over Waffle the rooster continues to escalate, WXYZ reported Thursday.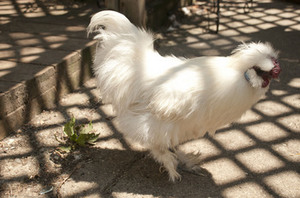 Kendra Wiedbusch
, Waffle's owner, told the television station that her neighbor, who also happens to be her cousin, told her pet Yorkie to attack the rooster.
Waffle has been the target of complaints about noise in Wiedbusch's Ypsilanti Township neighborhood. Neighbors say his crowing disturbs them and keeps them from sleeping.
Ypsilanti Township says its ordinances prohibit a rooster in a residential area. But a magistrate ruled Weidbusch could keep Waffle. The township appealed, and a Washtenaw County District Court Judge is set to rule on the matter in three weeks.