Thousands pour in to Ypsilanti as EMU moving day commences
Posted on Sat, Sep 1, 2012 : 5:16 p.m.
This is a day of transition for thousands of students arriving on the campus of Eastern Michigan University: move-in day. This year will see 3,237 students sign housing contracts — an increase of more than 12 percent from Fall of 2011 according to Pamela Young, director of media relations for EMU.
Several hundred student orientation assistants, volunteers from fraternities and sororities and student athletes are helping new students move into their residence halls today. At Putnam Phelps dormitory there were numerous volunteers available for every family as they unpacked items near and dear to their departing students.
"It was hard to decide what to bring," said freshman Nikayla Williams from Lansing.
Freshman Abigail Cowell from Menominee, Mich., called the move a good experience.
"I'm excited and a little nervous," she said right after meeting her roommate. "I'm most looking forward to meeting new people."
Freshman Robert Lodge, who'd just arrived from his hometown of Upper Sandusky, Ohio with his dad.
"I'm really proud he got to this point but it will be hard saying goodbye," said his dad Chris Lodge.
Parent Valerie Bell from Detroit had mixed feelings about dropping off her son Charles, a freshman.
"It's sort of exciting, but he's moving away from home and that's harder for me than for him," she said.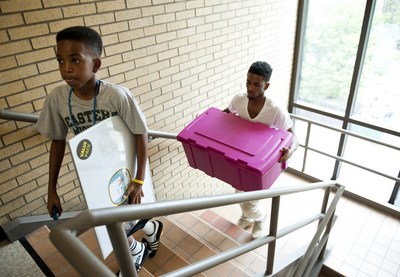 Daniel Brenner I AnnArbor.com
Parents Leigh and Jeff Hollmann of Ann Arbor called the experience of helping daughter Jessica, a freshman, pack and move "an emotional roller coaster."
"Everyone is feeling the stress," said Jeff Hollmann.
"We're glad she'll have the dorm life but still be close to home," said Leigh Hollman. "It's a good first step."
This fall, there will be 2,467 first-time freshmen at EMU — an increase of 21 percent from last year said Young.
Young also said there are a number of changes on campus awaiting students.The Hoyt residence hall on Oakwood Street near the student center has been redone and is reopening. In addition, the Mark Jefferson portion of the new science complex has been renovated and will be open for classes.
"This is part of the $90 million self-funded science complex," said Young. "We've also expanded wireless through the classrooms as part of our three-year improvement plan for major classrooms."
For EMU football fans, the home opener is next Saturday, Sept. 8, against Illinois State. Later this fall, Tony Verdi will be debuting as the women's basketball head coach.
The Fitzwilliams family from Trenton, Michigan said they were excited to be dropping freshman Cady at EMU. But Cady was the most enthusiastic in the family.
"I was nervous on the ride coming here, but feel better now that I've seen some friends here," said Cady Fitzwilliams. "I look forward to branching out my experiences of life." EMU families are invited to a picnic at Bowen Field House in the early part of the afternoon today, and EMU President Susan Martin will lead a convocation ceremony at EMU's Convocation Center from 4-5 p.m. For the complete schedule of this weekend's events at EMU, click here.