Preliminary exam Tuesday for man charged in armed robbery
Posted on Sun, Aug 26, 2012 : 1:29 p.m.
A 23-year-old Ypsilanti man is due in court next week on charges that he was involved in the severe beating of a 53-year-old Ypsilanti man, who lost vision in his right eye after being shot with a pellet gun.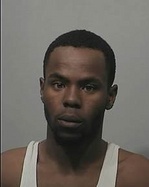 Courtesy of the WCSO
Antonio Frank Thomas faces charges of armed robbery, assault with intent to rob while armed, assault with intent to murder, assault with intent to do bodily harm less than murder and assault with a dangerous weapon for the Aug. 12 incident. According to police, Thomas was one of several men who went through the man's pockets and shot him in the face with a pellet gun.
Police responded at 9:15 p.m. Aug. 12 to Jefferson and Brooks streets after being notified of a man being beaten by multiple men.
Thomas was arrested following the incident and a warrant was issued for his arrest on Aug. 15. If convicted, he faces a maximum of life in prison. He's due back in court for a preliminary exam at 8:30 a.m. Aug. 28.
Thomas currently is lodged at the Washtenaw County Jail and is being held on a $150,000 cash or surety bond, according to jail records. He also has a $500 bond for driving with a suspended license, records show.
Police said last week they also had identified other men involved in the incident, but so far no charges have been filed against anyone else.
The suspects were known to the victim and it's still not clear what started the melee.
Doctors have told the man he will have permanent vision loss in his right eye due to his injuries. Nothing was reported taken from the man.