Lakeshore Apartments annual fireworks celebration canceled indefinitely
Posted on Tue, Jul 3, 2012 : 5:57 a.m.
Lakeshore Apartments in Ypsilanti Township will not be holding its annual Fourth of July fireworks celebration this year, but owner John Packer said he hasn't given up on trying to bring them back next year.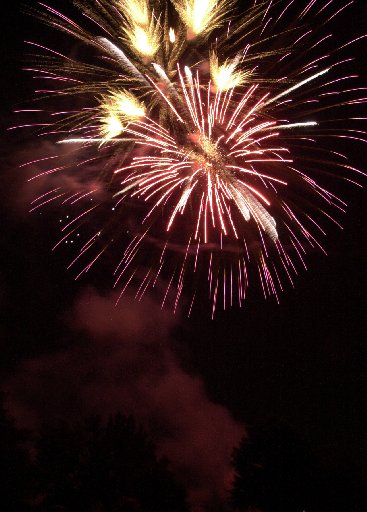 File photo | AnnArbor.com
Packer said last March, Lakeshore refinanced the property through the U.S. Department of Housing and Urban Development and when HUD reviewed the finances, it was concerned with the expenses of the fireworks.
Packer had a meeting with HUD officials and after assessing the situation, they decided the fireworks celebration costs were unnecessary and unreasonable to the health of the complex.
"We tried working with them but they deemed the expenses unnecessary," Packer said. "They're not allowing us to have them. It wasn't our choice. We're going to see if we can revisit it at the end of the year. We're having a good year and we're hoping we can convince them. We haven't given up yet."
This year would have been the fourth time Lakeshore hosted the event. Last year's celebration included three nights of on-site fireworks, amusement rides, a petting zoo, classic car show and other events marketed toward families.
While Packer agreed that the costs may not have been reasonable or normal for an apartment complex to take on, he said the benefits far outweighed any of the expenses.
"We are hopeful it's not a permanent thing," Packer said. "The loan we have with them is for 35 years. We didn't realize we were giving up that type of control for our property."
Packer said when Lakeshore began hosting the fireworks, the goal was to make it annual event. Before HUD made its decision, he said Lakeshore had already budgeted for the fireworks this year.
Lakeshore has been receiving a lot of inquiries from residents in the apartment complex and residents in the local area.
"They liked it," he said. "I thought it was a win-win. It was good for us, our residents and local communities."
Packer said last year's fireworks had a crowd well over 6,000 people on site, not including the surrounding areas and neighborhoods that could see the display from the privacy of their homes.
Mike Radzik, director of the office of community standards for Ypsilanti Township, said the fireworks were once sponsored by the township and grew in volume to the point where they were drawing thousands of attendants. With the increase of people attending, Radzik said the township saw more fights and issues surfacing.
""We didn't have enough police officers available to provide traffic control," he said. "Because of that and funding, the township ceased doing them and then Lakeshore stepped up and said they were interested in sponsoring it so they did it for a couple of years."
Radzik said although the fireworks display will be missed, the township has no immediate plans to begin hosting the fireworks again.
"At this point, I haven't heard any movement from the township," he said. "We've had to cut back on police officers over the last four years and we're still not up to full strength. People would love to if it were ever feasible. We were excited that we had a private event and were really hopeful it would have continued."
Katrease Stafford covers the city of Ypsilanti for AnnArbor.com. Reach her at KatreaseStafford@annarbor.com. You can also follow her on Twitter.