Joint board meeting Aug. 8 to decide fate of Ypsi-Willow Run consolidation proposal
Posted on Mon, Aug 6, 2012 : 5:59 a.m.
Before voters can decide whether they support school consolidation, Ypsilanti and Willow Run's boards of education must approve placing a merger proposal on the November ballot.
The Ypsilanti-Willow Run Collaboration and Communication Task Force met Monday and unanimously passed resolution recommending that both school boards vote to support the question of consolidating school districts appearing on the Nov. 6 ballot.
A petition has to be filed in the Washtenaw County Clerk's Office by Aug. 14.
If school board members vote in favor of the ballot language Aug. 8, it will be up to residents of both districts to determine whether the neighboring schools should combine to form a single school system.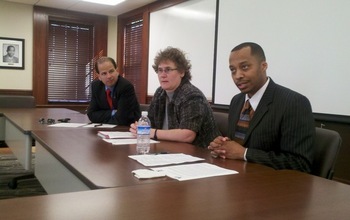 Danielle Arndt I AnnArbor.com file photo
The two school boards
last met
in joint session on April 16 to decide whether they would pursue moving forward with a consolidation proposal. The 12-2 "yes" votes at that juncture gave school officials the green light to engage the greater Ypsilanti community in a discussion about what a new, unified school district could look like.
School officials conducted five visioning sessions, two data sessions and a two-day "strategic design" planning retreat to involve the community. They will host two forums reviewing the strategic design Aug. 6 and 7.
The motion approved at the April 16 meeting stated the question of consolidation should be brought before voters "only after there has been established a clear and detailed plan for the development and implementation of a unified education system," according to the resolution.
At the upcoming Aug. 8 meeting, both sets of school board trustees will vote to determine whether those stipulations have been met and whether they can support the proposed ballot language.
Willow Run trustees Brenda Meadows and Bobby Stevens opposed the idea of consolidation at the initial meeting in April.
Washtenaw Intermediate School District Superintendent Scott Menzel has acted as a facilitator for the Willow Run-Ypsilanti collaboration talks and said the Aug. 8 meeting is a "major marker" in the unification process.
"The trustees and superintendents from both boards have worked tirelessly — first, finding ways to pool their resources to reduce expenditures in order to protect funding for educational programs, and now exploring the idea of a new, unified school district," Menzel said. "This is an important and critical vote for the education of our children in the Ypsilanti area."
The Aug. 8 meeting begins at 7:30 p.m. in the Eastern Michigan University Board of Regents Room, on the second floor of Welch Hall.
School leaders with Ypsilanti and Willow Run first undertook the task of looking at shared services a year ago, almost to the day of when the joint meeting will take place. The idea was to ward off an emergency financial manager and maintain local control. Both school districts are operating with a deficit.
Ypsilanti Schools entered the red in 2009 and has a current deficit of just less than $10 million. Willow Run has had a deficit since 2005 and currently is about $1.7 million in the red.
Ypsilanti Public Schools employees face multiple pay-less paydays for the 2012-13 school year if nothing is done. The district has considered reducing support staff hours, closing the high school pool and cutting the number of art, music and physical education teachers at the elementaries to pay employees come fall.
Staff reporter Danielle Arndt covers K-12 education for AnnArbor.com. Follow her on Twitter @DanielleArndt or email her at daniellearndt@annarbor.com.