Former EMU President John W. Porter dies at the age of 80
Posted on Fri, Jun 29, 2012 : 6:38 p.m.
John W. Porter, Eastern Michigan University's 17th president, died Wednesday at the age of 80.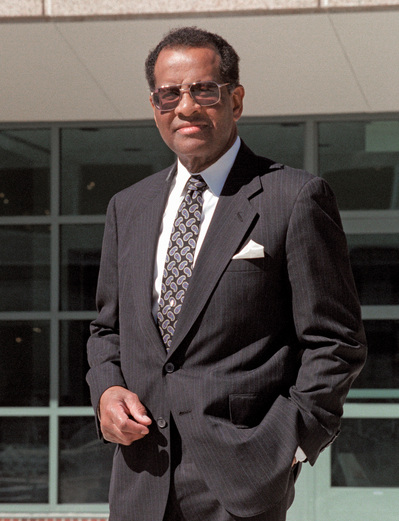 Courtesy photo
Porter served as president from 1979-89 and was known for the significant achievements made during his tenure as president.
They include: establishment of the College of Technology, creation of the Olds Student Recreation Center and construction of the College of Business in downtown Ypsilanti.
Porter also was credited for leading the university in when EMU's football team won the Mid American Conference Championship and the California Bowl in 1987.
During his tenure, Porter also created the university's first doctorate, which was offered in educational leadership.
EMU Board of Regents Chair Roy Wilbanks worked closely with Porter during his time as president.
"Dr. Porter was a tremendous leader and a strong supporter of urban education in Michigan throughout his career as state (schools) superintendent, as president of Eastern Michigan University and as superintendent of Detroit Public Schools," Wilbanks said in a release. "While his 10 years at Eastern might be considered a small part of his career, it was a very important time for Eastern."
The John W. Porter College of Education building at EMU is named after Porter because of the many contributions he made to the university community.
EMU President Susan Martin said Porter left a remarkable legacy at the university.
"He will always be remembered for his outstanding leadership, his innovations and for the stabilizing presence he brought to the institution," Martin said.
Before coming to EMU, Porter served as the state superintendent of public instruction for Michigan's schools. He was the youngest chief state school officer in the nation and the first African American to serve as a state's head of schools.
U.S. Presidents Lyndon Johnson, Richard Nixon, Gerald Ford, Jimmy Carter and Bill Clinton all appointed Porter to commissions and councils, ranging from higher education to employment and mental health.
Porter was born in Fort Wayne, Ind., on Aug. 13, 1931. He received his undergraduate degree from Albion College and earned his master's degree in counseling and guidance and a doctorate in higher education administration from Michigan State University.
Porter, was living in Ann Arbor at the time of his death and is survived by five sons: Earl, John Jr., Levon, David and Steven; and three daughters, Valorie, Portia (Fletcher) and Donna (Welch). He was preceded in death by a daughter, Mary, and his wife, Lois.
There will be a visitation at Liberty Road Chapel of the Nie Family Funeral Home at 3767 West Liberty Road in Ann Arbor from 3 p.m. to 8 p.m. Friday and Saturday, July 6-7. A funeral service will be held Monday, July 9, at 2 p.m. at Liberty Road Chapel.
Katrease Stafford covers the city of Ypsilanti for AnnArbor.com. Reach her at KatreaseStafford@annarbor.com. You can also follow her on Twitter.