2 residents escape as fire destroys home
Posted on Wed, Aug 29, 2012 : 9:05 a.m.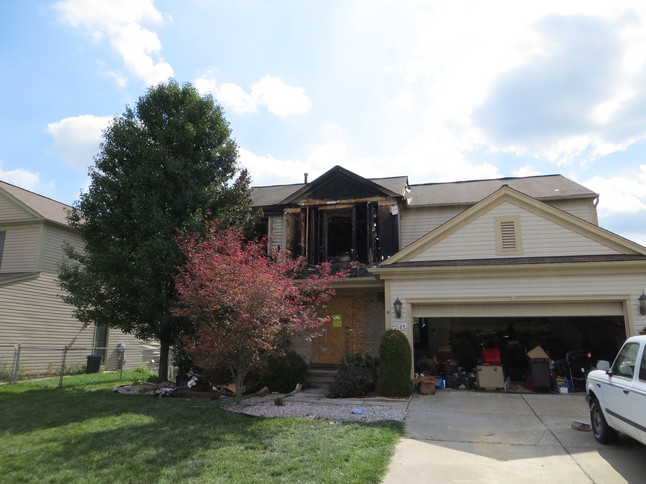 Kyle Feldscher | AnnArbor.com
Editor's note: The headline of the story has been corrected to reflect the number of residents home at the time of the fire.
An Ypsilanti Township family lost just about everything and a firefighter suffered a second-degree burn in a fire that gutted a two-story home Tuesday evening.
Ypsilanti Township Fire Department Captain Brad Johnson said firefighters were dispatched at 7:52 p.m. Tuesday to 8184 Thornhill Drive after being notified that flames were coming through the roof of the home.
When they arrived, firefighters saw the back of the house was totally engulfed by the fire and flames were already spreading throughout the first and second stories.
Johnson said the fire was hot enough that vinyl siding was melting on the homes next door.
"It just consumed the place," Johnson said of the fire. "The house is still standing, but it's just gutted."
It took about an hour for firefighters to get the blaze under control completely and crews eventually left the scene at 11:46 p.m., Johnson said. Ypsilanti Township firefighters were assisted by firefighters from the Ypsilanti, Ann Arbor and Pittsfield Township fire departments.
Huron Valley Ambulance crews were on scene in case anyone needed medical assistance and the Washtenaw County Sheriff's Office was also on the scene.
Two of the three family members were at home when the fire broke out and managed to escape unharmed, but a family dog may not have been as lucky, Johnson said. The dog was still unaccounted for Wednesday morning, and Johnson said the family believed the dog did not get out of the home.
The home was considered a total loss — the fire did about $150,000 worth of damage to the structure of the home and the contents of the home were valued at $70,000, Johnson said. The combined damage to the nearby homes that had vinyl siding melted was estimated at $6,000, he said.
At this point, the cause of the fire is unknown. Johnson said investigators have determined the point of origin was in the back of the house, but the investigation into the cause will wrap up later on Wednesday.
One firefighter was treated at a local clinic for a second-degree burn on his arm and was released Tuesday night, Johnson said. The firefighter's injury was not severe enough to take him to the emergency room.
The American Red Cross took the family in, providing food, clothing and shelter.