A new dream: Latest Habitat for Humanity house to be dedicated Sunday
Posted on Sat, Sep 29, 2012 : 5:55 a.m.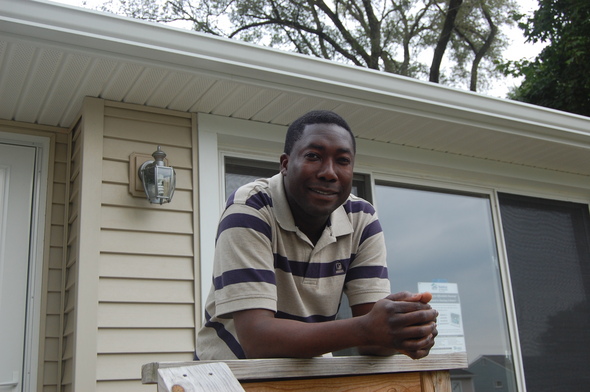 Janet Miller | AnnArbor.com

When Kwassi Wuasi came to the United States from his home in the West African nation of Togo seven years ago, it was to get a good education and earn enough money to take home and live a better life.

He never thought he'd realize the American dream of home ownership. But Wuasi and his fiancee, Rebecca Clary, are the latest family to buy a house from Habitat for Humanity of Huron Valley.

The house, a simple, three-bedroom ranch on Clarita Street in the Nancy Park neighborhood of Ypsilanti Township, was remodeled over the summer and will be dedicated Sunday afternoon.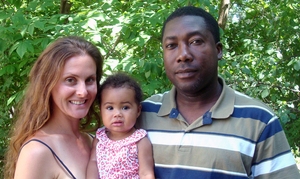 Photo courtesy of Habitat for Humanity of Huron Valley
Wuasi said the birth of his daughter, Dior, almost a year ago changed his dreams. Instead of returning to his family in Togo, he wants to remain in America with his new family.
"When people from different countries come here, they usually want to work, earn money and then go back home to build a house," Wuasi said. "I had never thought about buying a house here. But since I had a child, my thoughts have changed."
Habitat has shifted from building new homes to renovating existing ones, and the Nancy Park neighborhood has been significantly stabilized with recent Habitat renovations. Eight vacant and tattered Nancy Park homes, most of them foreclosures, have been remodeled and sold to families, said Rob Nissly, Habitat housing director.
Habitat purchased what would become the Wuasi-Clary house last winter for $40,000 and invested another $60,000 in renovating it, with some of that amount coming from in-kind donations, such as appliances.
The volunteer labor for the project came from The Good News Group, a partnership of area congregations that has built or remodeled two Habitat houses every summer since 1997, said Sandy Simon, a member of the group.
The Good News Group was founded by Bob Whitacre when he organized a group of Methodist churches to pitch in to build a Habitat house. It has since grown to include 18 congregations.
"We have put 21 families into houses," Simon said. "But the statistic we like the most is that we've helped 56 children live in Habitat houses. They really are families…. We feel we make a difference in the community, we learn new things about home repair, and we have a good time working side-by-side with the people who are going to live there."
Things have not been easy for Wuasi and Clary. He works two jobs as a caregiver in assisted living facilities, goes to school full-time at Eastern Michigan University and worked 100 "sweat equity" hours for Habitat, many of them on his house. For the three days he works, he rises at 5 a.m. to get to his first job by 6 a.m. and doesn't return home from his second job until almost midnight. The rest of the week, he has classes and homework.
Wuasi, who speaks five languages, wants to become a language teacher.
Caring for a baby and working a part-time job, also as an assisted living caregiver, has made it difficult for Clary to log her required 100 hours with Habitat, she said. So far she has worked 50 hours, using her vacation time to work on Habitat projects. The family can't move into the house until her remaining 50 hours are completed.
The pair also attended 25 hours of home ownership classes run by Habitat for Humanity.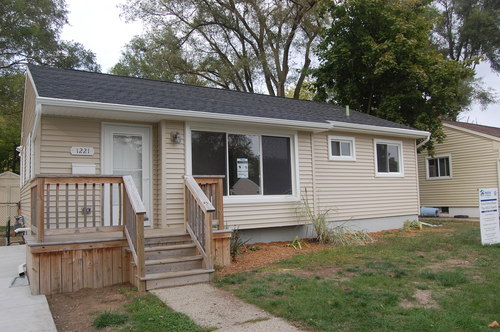 Janet Miller | AnnArbor.com
They are aiming to move in sometime in October. Clary wants to plant a flower and vegetable garden next spring and she's happy to have someplace to call her own. "When you own a house, you have more control over what you can do to it," she said.
Habitat houses are not free. Owners make a down payment and pay a no-interest mortgage (which includes principal, taxes and insurance) that is no more than 30 percent of the family's income. Habitat holds the mortgage.
The house is no mansion, Clary said. But that's fine. It's Energy Star rated and has a new roof, furnace, siding, windows, bathroom and kitchen as well as refinished floors. Mold was abated and the overgrown yard was cleaned up.
"There's a lot of light and it's bright and happy," Clary said. "There will be a lot of memories made there."