Ypsilanti couple watched as 14-year-old suspect broke into home: 'The whole thing left us feeling sad'
Posted on Tue, Jul 24, 2012 : 5:57 a.m.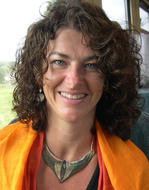 Previous story: 14-year-old boy arrested hiding in basement after home invasion
Rene Greff and her husband, Matt, were upstairs in their Ypsilanti home Sunday around 8 a.m. when they heard a knock on the door.
Because it was so early, "we thought it was a little odd," Rene said.
The 14-year-old Ypsilanti Township boy at the door allegedly broke into the house, tried stealing their wallets and car keys and was found hiding in the basement and arrested by Ypsilanti police.
Before that could occur, though, the Greffs -- who own the Corner Brewery in Ypsilanti and the Arbor Brewing Company in Ann Arbor -- went through quite an ordeal. Holed up in the upstairs bathroom, the couple stayed on the phone with police and helped coordinate the capture and arrest of an intruder in their home.
After hearing the initial knock on the door, the Greffs decided not to answer it. But the knocking continued.
"The person proceeded to bang on the door for 10 minutes," Rene recalled in a phone conversation with AnnArbor.com Monday afternoon.
The boy then went into the backyard and continued knocking on windows and doors, ostensibly to see if anyone was home before making his move.
The Greffs were watching him from upstairs.
"The whole time, we were watching him out the windows," Rene said
They called the police. A dispatcher stayed on the phone with the Greffs throughout the incident.
The boy then found a kitchen window that was unlocked. Rene said he got it open and slipped in.
"We heard him in the kitchen," she added.
By this time, the Greffs had locked themselves inside their bathroom and continued to talk with the dispatcher on the telephone. Ypsilanti police - complete with a K-9 police dog - soon showed up.
"They stormed the backyard," Rene said about the police. One officer climbed through the same window the boy allegedly used to gain access to the residence.
The boy was found in the basement, where he had stashed the wallets and car keys Rene said he had stolen from the main floor. He was taken to the Ypsilanti Police Department and lodged at the Washtenaw County juvenile detention facility.
Rene said because of the diligence of the Ypsilanti police, she and her husband were never too afraid.
"The police were great to work with," she said. "The whole thing left us feeling sad. This kid's life is heading in the wrong direction."
The Greffs are now considering putting in an alarm system because they think their neighborhood - they live in the 1300 block of Grant Street in Ypsilanti - is a target for petty crime.
"Enough is enough," Rene said.

View Washtenaw County Crime Reports in a larger map