EMU contract negotiations: Employees say low raises, increased benefit costs may result in pay reduction
Posted on Mon, Jun 11, 2012 : 5:59 a.m.
Joe Braunschneider describes his experience as a negotiator seeking a new contract for police officers at Eastern Michigan University this way: "It's like having all bark and no bite."
Braunschneider, a retired Ypsilanti detective and current EMU Department of Public Safety officer, is leading negotiations between the EMU Police Officers Association patrol unit and university administrators.
After months of negotiating, the roughly 20-member POA patrol unit is unsatisfied with the university's offer of minimal raises and an increase in heath care costs. Progress, Braunschneider says, is slow.
"All you really have are your arguments. You go to the table with something you want and they say 'Why do you want it?'" Braunschneider said. "It's like asking your mom and dad 'Hey, can I have something?' and they say 'No.'"
The way EMU sees it, there's a good reason for that answer. Drastic cuts in its state appropriation for 2011-12 and a modest increase for the coming year are forcing the school to cut costs.
Braunschneider, who was formerly the head of the Ypsilanti Police Department officers union, has plenty of experience negotiating contract agreements. When officers and city administrators couldn't agree during Ypsilanti negotiations, parties would turn to binding arbitration —a process by which a state appointee decides on disputed negotiation terms. However state law limits binding arbitration to municipal fire and police departments, and thus it's not an option at EMU.
"That's part of the frustrating part of being here," Braunschnider said.
In addition to negotiations with the POA, EMU has been in contract talks with the roughly 250-member clerical union since March. Last week the school commenced contract negotiations with the faculty union.
Both the clerical and officers unions are battling the school on healthcare offerings and raises. The new plans offer higher deductibles and co-pay costs and unions contend they shift costs on the employee too heavily. The plan changes, coupled with low raises, actually decrease pay for workers, union leaders say.
Susan Moeller, an EMU business professor and head of the university chapter of American Association of University Professors, estimates the healthcare changes would result in a 5.5 to 18 percent pay cut for clericals, depending on which plan they chose and whether they're married or single.
"That is really going to hurt those people," Moeller said. "They were told that the university will not negotiate with them on the healthcare, they'll just negotiate with them on raises. They'd have to get huge raises to compensate and that's not going to happen."
Clerical union president Karen Hanson said the average EMU secretary earns $34,600. Hanson declined to comment on the raises offered by administrators, saying she did not want to sour good faith negotiations. Hanson did say that EMU secretaries "don't make enough money for the changes."
Braunschneider, however, said EMU proposed the following raise scale for the three-year officers' contract: No raise the first year, a 1 percent raise the second year and a 2 percent raise the third year.
He said EMU police officer salaries range from $42,000 to $60,000.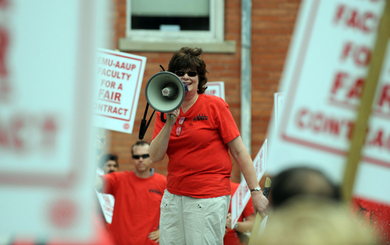 Change in healthcare
EMU predicts healthcare costs will rise 8.5 percent annually, from $25 million in 2012 to nearly $32 million in 2015. In 2011, EMU paid $11,041 in insurance costs per employee. By 2012 that figure rose to $12,159.
New plans proposed by EMU raise deductibles and shift some cost from the university to the employee. The University of Michigan has implemented a similar shift in recent years.
EMU Vice President of Communications Walter Kraft declined to comment on specific issues of negotiation but directed AnnArbor.com to information on 2013 healthcare changes for non-unioned employees, including coaches and administrators.
EMU is eliminating its premium plan that costs $1,512 per year for a single individual and doesn't include deductible or major co-pay costs. It's retaining a moderate plan, which includes a 10 percent co-insurance rate and $250 deductible for a single person and $750 deductible for a family. The cost for a single individual will rise from $564 annually to $624 annually.
The university will also offer new plans with deductibles ranging from $500 to $1,500 per single individual, co-insurance rates ranging from 20 to 30 percent and annual premiums from $120 to $360. Annual out-of-pocket maximums for a single individual will range from $1,620 to $2,360.
Depending on negotiation outcomes, union employee plans may or may not resemble these healthcare offerings.
"That all has to be worked out at the negotiating table," Kraft said. "We designed this for those employees that are not covered by a collective bargaining agreement."
Under current contract conditions, police officers have the option of a plan with no premium or a plan under which the premium is $779 per single employee. Those options were not offered to non-unionized employees this year.
EMU has a history of tense labor union contract negotiations. Employee groups went on strike in 2006, 2004 and 2000. In 2010 the faculty union threatened to strike, citing increasing healthcare costs that union leaders said equated to a 2 percent pay cut.
That year premiums for a typical family increased from $1,139 to $2,950 but the administration agreed to give all faculty members a one-time payment of $1,000. The police officers' and clerical unions weren't negotiating then and weren't asked to partake in the more costly heath care plans until now.
Limiting raises and health care costs is part of an ongoing strategy by EMU to reduce personnel expenses. Last summer the school eliminated more than 80 positions, saving $4.2 million in salaries.