Closing Ypsilanti High School's pool, cutting support staff hours among possible upcoming reductions
Posted on Wed, Jul 25, 2012 : 5:59 a.m.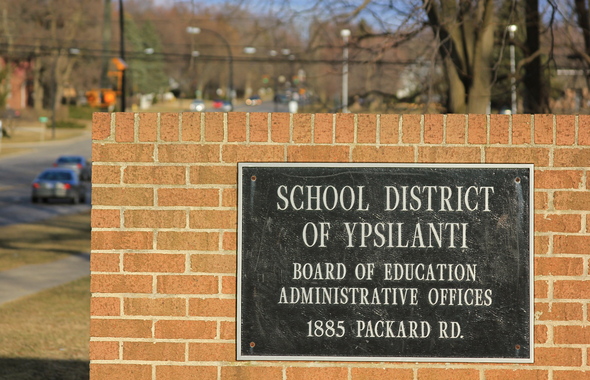 The School District of Ypsilanti is scrounging for places to cut to avoid pay-less paydays for employees come September.

Among the potential cost-saving items tossed around by school board members Monday night were:
Combining high school athletic programs with Willow Run Community Schools;
Putting pressure on the Ypsilanti Public Schools Foundation;
Reducing planning time or the number of furlough days for teachers;
Reducing the number of art, music and physical education instructors at the elementaries;
Eliminating transportation for in-district School of Choice students;
Closing the high school pool; and
Reducing support staff hours by 15 minutes per day.
The cuts are necessary following news that Ypsilanti won't be permitted to borrow $14 million from the Michigan Department of Education to make payroll for the upcoming school year.
Due to the district's poor financial status, it has been told it no longer has the "capacity to borrow" that much. Superintendent Dedrick Martin anticipates Ypsilanti Public Schools will be approved to borrow about $12.7 million.
Of the options on the table, school officials learned merging sports teams with Willow Run can be ruled out. Martin said the Michigan High School Athletic Association will not allow joint athletics because the districts are in different competitive classes due to the size of their student bodies.
The Ypsilanti Public Schools Foundation currently utilizes building space within the school district to house its operations and resale shop. District officials do not charge the foundation anything to use YPS' facilities, Martin said.
Board trustee Sarah Devaney asked if allowing them that courtesy was a drain on the district in any way. Martin said the use of the facilities is "not really" a "drain." But he said the foundation has not provided significant contributions back the district either.
"They are not fiscally healthy. So I'm not sure that they are really providing us anything," he said. "They do a great service with their mini grants and scholarships, but beyond that…"
Board of Education President David Bates reminded those present at Monday's meeting that the foundation owes the district $100,000. He expressed a desire to meet with foundation leaders to discuss the "loan."
"It's my opinion that if they can give raises to their executive director, then they seem to be in the position to begin paying back the district," Bates said.
In 2009, the most recent year for which data was available, the Ypsilanti Public Schools Foundation reported contributions of $33,209 in donations/revenue and spent $43,101 on program services, including $26,522 for executive director Henry (Hank) McQueen's compensation. According to the foundation's IRS form 990, it had $222,857 in total assets at the end of the 2009 fiscal year.
YPS made two consecutive donations of $50,000 a year to the foundation when it was trying to get off the ground in 2007, Martin said.
"It was essentially for seed money, and the understanding was that would be repaid to the district. But the foundation has found it much more difficult to become viable."
Devaney asked whether the foundation had any binding legal agreement or requirement to pay back the $100,000 it owes YPS. District accountant Cathy Secor said no.
"They tend to forget about (the loan). I think their hope was that it would just go away," Secor said.
Closing the high school pool could save Ypsilanti schools $100,000. Closing the Estabrook Elementary pool, which was approved previously, will save the district about that much, so the high school savings could be greater. Martin said he does not know the exact figure yet.
Bates said while he is a proponent of children learning how to swim ... these are dire times and there are other viable pools in the area.
Martin said in 2008, the district proposed unilaterally cutting the support staff's workday by 15 minutes per day for a 3 percent payroll savings. However, it was controversial, he said, adding principals complained the most, saying it affected their ability to get things done as well. But the benefit to unilaterally reducing the support staff's hours is the district does not have to negotiate or bargain out the agreement, it can just do it, Martin said.
Staff reporter Danielle Arndt covers K-12 education for AnnArbor.com. Follow her on Twitter @DanielleArndt or email her at daniellearndt@annarbor.com.