Developer Stewart Beal's CityFARM company expanding operations to Detroit
Posted on Sun, Jul 15, 2012 : 5:57 a.m.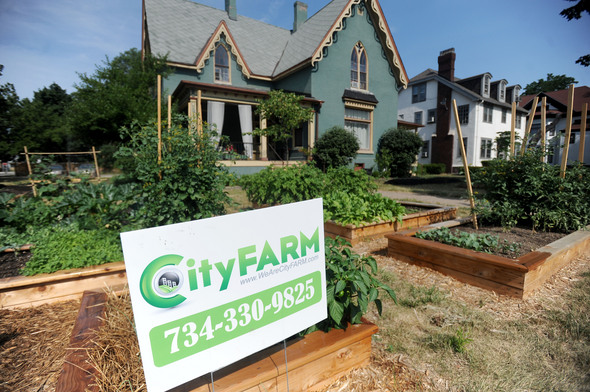 Angela J. Cesere | AnnArbor.com

CityFARM, an urban farming company that began in Ypsilanti, has expanded its operations to the city of Detroit.

CityFARM is a partnership between by Ann Arbor area developer Stewart Beal and Lauren Maloney, an organic farmer who oversees the operations.

Beal said the goal was to always expand outside of Ann Arbor and the city of Ypsilanti. Beal said after they passed out fliers, the calls started coming in and people were asking questions about the business.

Beal said he became interested in expanding to Detroit because of the large volume of vacant land that could possibly be used for farming.

"We started the business in Ann Arbor but wanted to have clients in Detroit," Beal said. Our organization has an office in Detroit and we do a lot of work there. We've just gotten our first two in Detroit and we expect to have 35 in Detroit one day as well."

"We had interest for personal gardens so we are in the process of launching an urban garden for a client in Indian Village," Beal said. "One of our long-term goals is to open a farm like the one we own in Ypsilanti in Detroit."

One of the Detroit customers is just working with the existing food-growing space, Beal said, and the other location has about 400 square feet of growing space.

In the coming months and years, CityFARM may expand even more.

"We're designing a couple of additional different phases that we're going to roll out over the winter and into the next summer," Beal said. "One of them is to have our own farm where we grow and don't donate or we sell and profit from it."
Angela J. Cesere | AnnArbor.com
CityFARM began locally in January and specializes in urban farm installation at residential and commercial properties.
Since January, the company has grown and now has 20 employees, including farmers, gardeners, carpenters and mason workers.
As of July, CityFARM has more than 40 clients with project budgets ranging from $100 to $22,000. Clients include families, individuals, homeowners, renters and business corporations.
Within the first six months of operation, the company has more than $68,000 in net income and is projecting to have more than 50 clients within the first season.
When the company first began, Maloney said part of the goal was help alleviate hunger in Washtenaw County. For every raised bed installed for clients, CityFARM would install one of the same size on a demonstration farm at 103 N. Adams St. in Ypsilanti and donate the food to the local nonprofit Food Gatherers.
So far, 20 raised cedar beds in a variety of sizes have been installed for clients, and CityFARM has installed 1,000 square feet of growing space and donated 60 pounds of food.
"They're not only getting a great urban farm but they're also giving back to the community as well," Maloney said.
The business charges $32 an hour for Maloney's services, and the four available packages run between $700 and $4,000. Beal said the company is willing to work with clients and their budgets.
"The great thing is there are upfront costs but they can be used for many, many years," Maloney said.
Maloney said people should consider installing gardens for a number of reasons.
"If you grow your own food, you know where it's coming from and you know there aren't any pesticides," she said. "You're reducing the need for chemicals. There are many benefits to it."
A lot of the business CityFARM has seen was a result of word of mouth and people walking by and noticing the farms popping up in the area.
"In the spring, we put in a large garden that was visible from the road and the neighbors that lived around it went by and said how beautiful it was and we ended up getting five clients just from that one farm," Maloney said. "People are really happy and fascinated with what we're doing."
Katrease Stafford covers the city of Ypsilanti for AnnArbor.com. Reach her at 734-623-2548 or KatreaseStafford@annarbor.com. You can also follow her on Twitter.