Blight beat: Ypsilanti Township prepares legal action against 'house of sewage'
Posted on Tue, Apr 24, 2012 : 5:59 a.m.
Photo courtesy of Ypsilanti Township
Ypsilanti Township could soon take legal action against the owner of an abandoned home that has a basement flooded with several feet of water and raw sewage.
The home was only abandoned recently, but officials have already received complaints about the "terrible odor" it's emitting.
At their meeting Monday night, the Board of Trustees unanimously approved taking legal action against the owner of the home at 2143 Merrill Avenue if he doesn't quickly address the issues.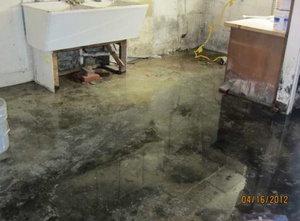 Ypsilanti Township photo
The owner had also been cited three years ago for performing basement excavation work that caused drainage problems throughout the neighborhood.
Aside from 2 feet of water and raw sewage in the basement, the home is infested with mold, and debris and garbage litters the yard.
Mike Radzik, director of the township's office of community standards, said renters had been living in the house until several weeks before a neighbor reported the issues.
The neighbor told Radzik he could smell the abandoned home from his house and the neighbor feared the sewage might be contributing to his wife's health problems. Upon inspecting the property, building officials immediately condemned the home.
Officials also found the house completely stripped.
"You've heard the expression 'They took everything but the kitchen sink', well in this case they did take the kitchen sink," Building Director Ron Fulton told the board.
Township Attorney Doug Winters said the home likely would cost more to renovate than it would to demolish, but he said officials have yet to hear from the owner.
Winters said he appreciates that township residents are alerting officials to blighted, abandoned homes in increasing numbers.
"There's no question that people are extremely concerned and vigilant as to how the housing implosion has impacted their neighborhood," he said. "That issue continues to take center stage around this township as we try stabilize our housing values … and the township has a responsibility to maintain those housing values."