Blight beat: Royal Bank of Scotland responds after Ypsilanti Township attorney asks 'What is your problem?'
Posted on Wed, Apr 25, 2012 : 5:59 a.m.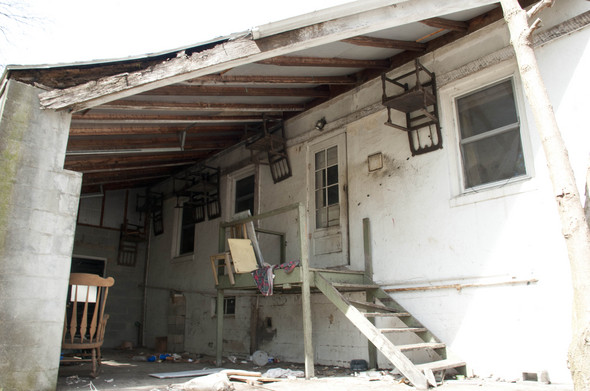 Tom Perkins | For AnnArbor.com
The Royal Bank of Scotland has responded to a frustrated query over a rotting home from Ypsilanti Township Attorney Doug Winters asking "what is your problem?"
"I think their problem is me," Winters said. "Whatever it takes to get their attention." The bank has agreed to demolish the foreclosed home, Winters said.
"With all due respect, what is your problem?" Winters asked in a letter informing the bank that the township was preparing to take legal action against it.
Winters was asking a Washtenaw County Circuit Court judge to declare a decaying home that RBS owned at 952 S. Grove Road a public nuisance and order it demolished. He charged that the home is in danger of collapsing and had a become a shelter for vagrants, among many other issues.
In what officials say is a rare occurrence, the letter notifying a bank of impending legal action brought a quick response.
Winters said an attorney representing the RBS contacted him and said the bank would demolish the home and a large garage on the property after clearing out the interior.
In his letter to RBS outlining issues at the property, Winters questioned how the bank could let the house "rot" and become a public health and safety threat, a shelter for vagrants and teeter on the verge of collapsing.
Among other issues:
The walls and floors are saturated with cat urine.
The floors and subflooring are rotting through in several spots.
The house is infested with mold, and sewer discharge was discovered in the basement.
Separation and cracks in the walls and ceiling indicate structural failure.
The foundation wall is crumbling.
The roof has collapsed in several locations.
Several garages are partially collapsed.
The Township Board of Trustees regularly approves staff taking legal action against banks and lenders that own a deed to foreclosed homes in the township but fail to maintain the properties.
Officials say it's the No. 1 problem facing the township, it is a threat to public health in many cases and it destabilizes property values. They have sought the help of U.S. Rep. John Dingell's office and developed new ordinances to help stem issues caused by the properties.