2 helmets stolen from Ypsilanti firetruck while officials were having a meeting
Posted on Thu, Jul 12, 2012 : 7:20 p.m.
Two helmets were stolen out of a Ypsilanti Fire Department truck while officials were having an organizational meeting at the Michigan Firehouse Museum Thursday.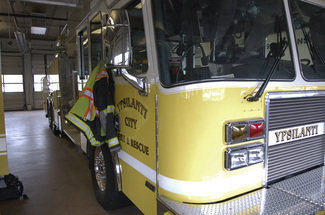 AnnArbor.com file photo
One of the helmets belonged to
Capt. Max Anthouard
, who said the department does not have replacements, which means the city will have to purchase more at about $200 to $250 apiece.
Fire officials were inside the museum, located at 110 W. Cross St., for the meeting from 9:30 a.m. to 1 p.m., Anthouard said. The helmets were inside a ladder truck they used to get to there.
"Somebody opened the door and stole the helmets," Anthouard said.
The department is hopeful the suspects will be caught and the helmets returned. The incident was reported to the police and there was a video camera filming the area where the truck was parked.
"We might be able to see who was around," Anthouard said.
Since there there are no replacements, firefighters will share helmets until new ones can be purchased or the stolen ones are recovered or returned.