updated:

National spelling bee: Word for larvae of lamprey eels eliminates Ypsilanti girl

Posted on Thu, May 31, 2012 : 12:17 p.m.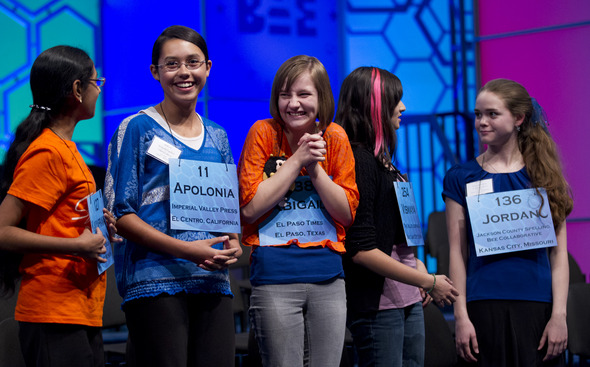 AP Photo I Evan Vucci
Previous story: Ypsilanti charter school student competes in Scripps National Spelling Bee
This story has been updated.
A word for the larvae of a jawless fish eliminated 12-year-old Kavya Pratapa from the Scripps National Spelling Bee Thursday.
Kavya, of Ypsilanti, made it through Rounds 4 and 5 in the semifinals before "ammocoetes" tripped her up in Round 6 of the competition.
Ammocoetes are the larvae of lamprey eels.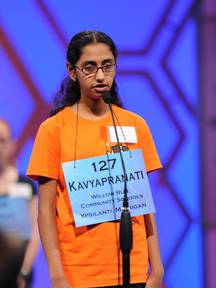 Courtesy of Scripps
Kavya, her parents and younger sibling will make their way back to
Michigan
Friday. Kavya was the only Michigan resident to compete in the semifinals. Nine contestants will continue on to the finals, which begin at 8 p.m. today.
Kavya spelled "perleche," a disorder of the lips, correctly in Round 5.
The national spelling bee began Wednesday in Oxon Hill, Md. It is being broadcast live on ESPN.
There were 41 children in total who survived the preliminaries. The competition entered Round 5 around noon Thursday. Twenty-three children advanced to Round 6.
Kavya, a student at South Arbor Charter Academy, advanced to the semi-finals, which began at 10 a.m., and correctly spelled "pidan" to keep herself in the competition.
According to Wikipedia, a pidan is a silk cloth used in Cambodian weddings, funerals and Buddhist ceremonies as a canopy or tapestry.
During Wednesday's preliminary competition, Kavya was asked to spell "efficacy" (defined as effectiveness) and "fissiparous" (defined as reproducing by fission).
Kavya is speller No. 127. View the results of the Scripps National Spelling Bee as they trickle in here.
Watch a live feed of the competition here, or follow the national bee on Twitter @ScrippsBee.
The finals will be from 8 to 10 p.m. tonight on ESPN.
Staff reporter Danielle Arndt covers K-12 education for AnnArbor.com. Follow her on Twitter @DanielleArndt or email her at daniellearndt@annarbor.com.