Years after accident left Saline resident in a coma and unable to move, she prepares for her first marathon
Posted on Sat, Jun 16, 2012 : 5:52 a.m.
Jeffrey Smith | AnnArbor.com
Steffanie Siefker's son, 11-year-old Spencer Siefker, left a very special message for his mom on her birthday cake this year.
"Shut Up and Run," it read.
That's one of the bits of advice Siefker says will be on loop through her head as she faces the challenge of running the Ann Arbor Marathon this Sunday.
A 26.2-mile race is a tough prospect for anyone, but Siefker is attempting it while still dealing with the lasting effects of a traumatic brain injury she suffered after being hit by a car while on a motorcycle 25 years ago. That accident, which occurred when she was 17-years-old, left her in a coma for a week and unable to walk, talk, eat, move or do anything else.
But 10 years later, after extensive rehabilitation, she began running. She first completed a 5k run, then a 10k run and most recently three half-marathons.
There are several reasons Siefker started and continues running, but being able to prove to herself that she can still be what she was before the accident is the driving motivation.
"I was highly athletic before the accident, and part of me wants to get that back,'' Siefker said. "I'm not competing against other people; I'm competing against myself. I want to prove to myself that I can still do this.''
Siefker says she "lost everything'' in the accident. Along with her ability to physically function, she lost her boyfriend of three years, all her friends and her athletic ability.
"There has always been a part of me that wants to get some of that back,'' she said. "When I cross that finish line, that's when I get a little piece of me back."
Siefker grew up in what she described as a strict family. Heading into her senior year, she was a math whiz about to take her first calculus course, part of the color guard team and an exceptional athlete.
The family was in Myrtle Beach in 1987 when her father allowed her to take a motorcycle ride with a trusted family friend. Siefker said they weren't doing anything reckless - there was no alcohol involved - when a car struck them.
She spent the next week in a coma in the intensive care unit, underwent surgery for blood clots on her brain and suffered multiple fractures on her skull. Her body was useless afterwards, her ability to do math was - and remains - gone and she described herself as a toddler at the time.
But Siefker's family stuck with her, and she said she was fortunate that her brain recovered enough so that her body could again function. She began reading articles and books about brain injuries, trying to understand what happened to her and trying to figure out how to improve herself, when she came across some information that said that running could help prevent the onset of dementia. People who have suffered traumatic brain injuries face a significantly higher risk of dementia when they grow old, so Siefker began running as a hobby.
But running soon turned into more than that. She began to find the endorphins produced by running eradicated the regular bone and muscle pain she feels. Furthermore, she found that it put her mind more at ease.
"It's therapy that I don't have to pay for and, more importantly, it's 'me' time. It's really good for me," she said.
Siefker said she still runs with a slight gait, suffers headaches and suffers from seizures if she doesn't take medication.
But the mental realm is more challenging in her daily life. Siefker struggles with basic addition and subtraction. She requires around 10 hours of sleep a night or has trouble functioning. She doesn't like to break routine or travel outside her comfort zone and Siefker finds herself overwhelmed easily.
She said the outcome of an attempt to work at the University of Michigan Department of Pathology in May illustrated her mental and emotional struggles. Siefker had to go through a 40-hour per week training course for eight weeks. The tasks weren't entirely complicated, she said, but she was overwhelmed by the amount of learning. She felt sleep-deprived and had to drop out after three weeks.
Similarly, the Ann Arbor Marathon is a daunting challenge.
"I'm scared; this is my first marathon," she said. But she added that she feels better with the support of her husband, Mike, who she described as "on a one-way road to heaven."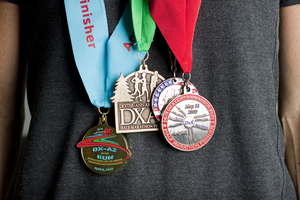 Jeffrey Smith | AnnArbor.com
"He asked me, 'What's the worst thing that could happen? I have to walk a few miles at the end?'" Siefker said. "He really put it in perspective."
Siefker said she sometimes wants to give up or not train the 40 miles she has been running regularly to prepare for the event. When she starts to give up or feel down, that's when Mike Siefker only half-jokes "Shut up and run".
Siefker's sister, Tracy Wright, and friend, Kelly Weiseman have also been supportive and said they will see Siefker at the finish line. She also puts herself at ease by repeating a quote from John Bingham, a famous runner who has penned several books on amateur running.
"The miracle isn't that I finished. The miracle is that I had the courage to start," reads the quote.
"When I start to feel bad, I think of my sister, I think of my son telling me to 'Shut up and run' and I think of my husband, and I think I can do it," she said.
Aside from her family, Siefker will have the support of the Wolverine Chapter of My Team Triumph. The group provides "angels" who run with people with traumatic brain injuries known as "captains." The angles usually push the captains in wheelchairs or assist them in some other way, but Siefker is able to run, so she has always served as an angel.
But this time, facing a full marathon, she will have three angels running with her for support throughout the race.
Bisi Adewunmi, president of the Wolverine chapter and Kennedy Care, a TBI homecare agency, described Siefker as "really fast", and said she finished a mile during one of her recent races in 8:30.
But he said speed is not the objective for her this time.
"We're trying to coach her and let her know she can slow her pace down and that she can do it; she can finish" he said.
Mike Sieffert is fully confident his wife will be able to finish the race and said the biggest obstacle is her nerves.
"I'm super proud of her and I know she can do it," he said. "She runs all the time, and I think she worries a little bit about being able to do it, but she can do it. She can do whatever she wants to do."
Despite her anxiety about the marathon, Siefker is eager for this weekend. As part of her training, she isn't supposed to run for the final week before the race, and that's enough to get her pumped up for Sunday.
"I'm starting to go bonkers not running! I need to get out and run!" she laughed.