Work along Plymouth Road railroad embankment wash-out nears final phase
Posted on Mon, Jun 25, 2012 : 2:59 p.m.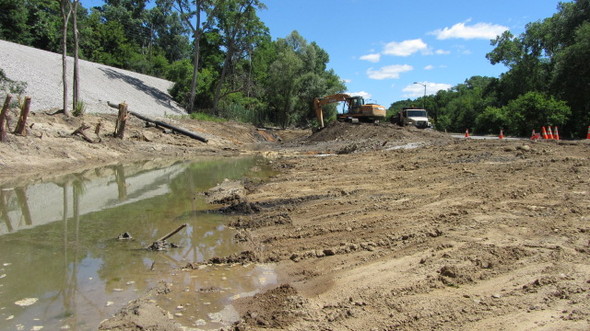 Amy Biolchini | AnnArbor.com

Crews from the City of Ann Arbor are on schedule to wrap up work this week at the site where a steep railroad embankment along Plymouth Road east of Moore Street washed out last year.

A 45-foot-long section of embankment washed out from under a line of railroad tracks after 3 inches of rain fell in a 24-hour period May 25, 2011. About 2,000 cubic yards of soil as well as trees that washed out from the embankment blocked the five-lane roadway for two days.

City crews are in the last week of their four-week contract to remove debris and soil from the land at the base of the embankment adjacent to the roadway -- a bill of $52,000 to date.

The area is being restored to a wetland. As the soil is cleared away, city crews are performing rough grading on the site. Workers said the original wetland had filled up with sediment over the years.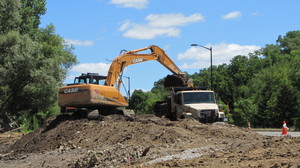 A $97,687.50 contract with Fonson Inc. for the final grading and construction of the wetland, including plant installation, should come before the Ann Arbor City Council July 16 for approval.
The final phase of work should begin in mid-August and be finished by the end of October, said city spokeswoman Lisa Wondrash.
Two new drainage pipes were also installed to replace old ones, said Andy Fischer, lead field operator for the project.
Drainage pipes that ran through the embankment before the washout had become clogged, Fischer said, and that likely contributed to the failure of the embankment.
Both pipes feed into a small creek.
Major repairs to the railroad embankment itself were previously completed by the Ann Arbor Railroad Company, which owns the tracks.