With Ypsilanti not slated for federal road dollars, projects like Grove Road repaving in question
Posted on Wed, Aug 10, 2011 : 5:58 a.m.
Tom Perkins | For AnnArbor.com
For several years, Ypsilanti Township residents living in the neighborhood behind the Gault Village Shopping Plaza at Grove Road and the I-94 Service Drivehave been wondering when a disintegrating stretch of Grove Road will be repaved.
The answer from City of Ypsilanti officials: not this year. And possibly not until beyond 2014. The road is among the city's top priorities, but road construction funds are drying up the next two fiscal years.
Still, officials are exploring their options.
"Getting this road paved is one of the top priorities and we're working on ways to get it done as soon as possible," council member Brian Robb said.
Stan Kirton, director of Ypsilanti's Department of Public Works, said the city simply doesn't have the funds to do the estimated $600,000 road reconstruction. He acknowledged the road is in poor condition and said crews are trying to keep it patched.
Carrie Phillips is one of several township residents in the neighborhood who have asked Township Supervisor Brenda Stumbo about the road. Phillips said the deteriorating stretch is a regular topic at neighborhood watch meetings, and, when Stumbo visited the meeting last month, many were surprised to hear the road is located in the city of Ypsilanti.
The border between the township and city runs down Emerick Road, which dead-ends at a southwest angle into Grove Road. The area south and east of Emerick and Grove is the township. A small slice of land that includes the road north and west of Emerick belongs to the city.
But Phillips said residents are tired of the inaction no matter who is responsible for the road.
"We're all frustrated," she said. "A lot of us have lived here for years and years and it's just frustrating that nothing gets done. We keep hearing the same answer. I guess it would be nice if someone would do something instead of saying that they don't have the money."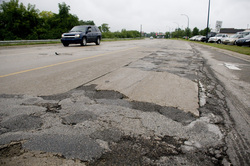 Tom Perkins | For AnnArbor.com
Kirton said the city won't be receiving federal road money over the next two fiscal years because it received more than its allotment in recent years.
Federal road money is distributed in the county via the Washtenaw Area Transportation Study. WATS Director Terri Blackmore explained Ypsilanti was "frontloaded" with funds since 2009. It received $571,000 in fiscal year 2009, which is twice what should have been allotted.
Ypsilanti received no federal funds in fiscal 2010, $700,000 in fiscal 2011 and $212,000 in the current fiscal year.
Blackmore said all federal road funds will soon be cut by 36 percent, due in part to less fuel consumption in a tough economy.
"We have to be fair over time to everyone," Blackmore said. "The level of federal funds is going down, we're going to be very short on money. Everyone is in the same position."
Kirton said the city also stands to lose some funding because its population shrank in the last census. But officials in Ypsilanti say the Grove Road is a priority for repaving, along with West Cross Street and Huron River Drive.
The road is receiving extra stress because the Washtenaw County Road Commission, which is responsible for all township roads, slimmed down the road in the township from four lanes to two and added a bike lane when it was last repaved, Kirton said. Grove remains two lanes wide in either direction in the city.
Kirton said he suggests people drive slower than the posted 25 mph speed limit when driving through the area.
"We understand that road is in bad shape, and we would love to do the road, but we just don't have the funds," he said. "The township has been working with us and making suggestions, but we just don't have money right now."