Where are the state's ten best ice cream parlors?
Posted on Thu, Aug 23, 2012 : 11:59 a.m.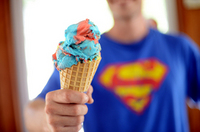 MLive.com reporter John Gonzalez recently traveled more than 1,500 miles over six days and visited 29 ice cream parlors - the ones that MLive.com readers determined to be the state's best ones.

Included among them was Ann Arbor's Washtenaw Dairy, which, although it made the original cut of 29, did not earn a place in Gonzalez's final ranking of the state's top ten ice cream parlors. (AnnArbor.com's Melanie Maxwell offered video coverage of Gonzalez's visit.)

Topping Gonzalez's list is MOO-ville Creamery in Nashville; Moomers in Traverse City; and Apple Knockers Ice Cream Parlor in Vicksburg.

You can see the full list here.