Weather conditions 'off the charts' for West Nile Virus epidemic this summer
Posted on Tue, Jul 3, 2012 : 2:15 p.m.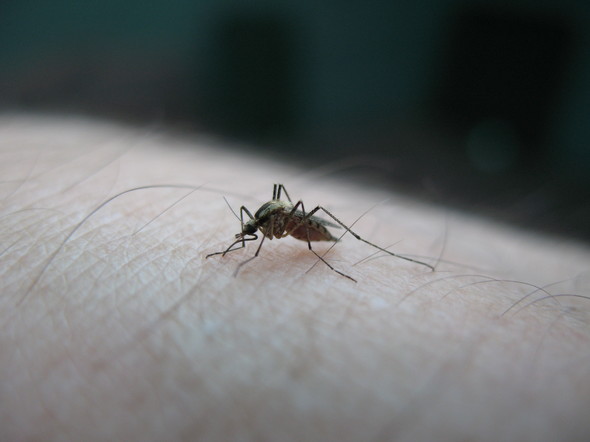 A wild turkey near Chelsea recently tested positive for West Nile Virus, making it the first reported case of the disease this year in Washtenaw County.

The incident in Lyndon Township is one of several factors indicating that conditions this summer are ripe for an epidemic of West Nile in Michigan, according to an expert in the field.

The turkey was found acting sick last week near a residence on North Territorial Road in the northwest corner of Washtenaw County.

A pool of mosquitoes in Saginaw County also tested positive for the virus last week. The two incidents are the earliest detection of West Nile in several years in Michigan, due to an unusually warm spring that encouraged the early hatching of mosquitoes.

The Culex mosquito that carries West Nile Virus thrives in hot, dry summer conditions.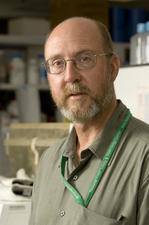 Ned Walker, Ph.D., an entomologist at Michigan State University
, said the weather has been so hot and dry so far this year that it significantly elevates the risk for West Nile Virus.
"The conditions are very suitable for an epidemic," Walker said.
In the past three months, Washtenaw County has received only 25 to 50 percent of normal precipitation, according to the National Weather Service. The deviation is reflected among many of the southern Michigan counties.
Temperatures have been in the 90s for the past several weeks in the area, and the forecast predicts more of the same for this week.
West Nile Virus is transmitted by mosquitoes through bites and can cause a mild illness to severe illness - including encephalitis or meningitis, which are inflammations of the brain - in humans and other animals.
People age 50 or older are more at risk for West Nile Virus. Symptoms of severe infection include headache, high fever, stiff neck, disorientation, convulsions, muscle weakness and paralysis.
Walker's lab at MSU has developed a model that uses temperature and precipitation to predict mosquito populations that correlate with West Nile Virus. Because the weather is about a month ahead of schedule, the recent period of prolonged heat puts the model "off the charts," Walker said.
Urban and suburban areas are particularly susceptible to large populations of the mosquito, as the insect thrives in catch basins of storm water drains.
"It's not surprising that West Nile was found; it's become endemic," said Laura Bauman, epidemiologist for Washtenaw County Public Health. "It's just a question of how bad of a year it will be."
Summer conditions are ripe to have the virus amplify in the community, Bauman said.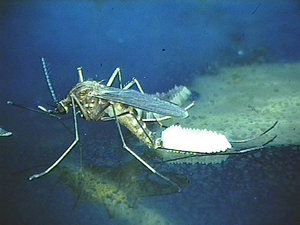 The Centers for Disease Control and Protection
No human cases of West Nile Virus have been reported to date in the state. Last year, 34 cases of the virus were reported in Michigan -- two of which were fatal, though none were in Washtenaw County.
The virus made its first appearance in the state in 2001, but no human cases were reported. In 2002, more than 600 human cases were reported in Michigan.
Human cases of the virus tend to appear in August and September, Bauman said.
Tracking the virus and mosquito populations have become increasingly difficult as many communities can't afford to fund testing and monitoring programs.
"Here in Michigan because of budget cuts, our ability to monitor that virus transmission system has really declined," Walker said.
In Saginaw, Bay, Tuscola and Midland counties, their mosquito control and testing programs are funded through a millage, Walker said.
Washtenaw County de-funded its bird testing program about five years ago, Bauman said.
Now, the county health department only takes reports of dead birds on a hotline at (734) 544-6750. Sick animals can also be reported through the state's website.
Though the birds' deaths aren't all from West Nile Virus, a peak in the number of dead birds in the summer is a signifier that the virus is likely present, Bauman said.
Reports of dead birds tend to spike a couple weeks before human cases begin to surface, Bauman said.
To protect yourself from mosquitoes, including those that carry West Nile Virus, the health department suggests:
Eliminate standing water.
Empty wading pools at least once a week; drain pools if not in use.
Change the water in pet dishes, water troughs and bird baths at least once a week.
Repair window screens.
Wear long sleeves, pants, shoes and socks.
Wear insect repellent or insect repellant clothing.
The Culex mosquito is typically active at night, Walker said, and will even travel indoors to bite.
"They're the kind of mosquito that buzzes in your ear late at night," Walker said, noting that even wearing repellent indoors may be a good idea.