Washtenaw County considers civil infractions ordinance to enforce dog licenses
Posted on Thu, Oct 18, 2012 : 3:30 p.m.
Having an unlicensed dog soon could be switched from a misdemeanor offense to a civil infraction, as officials are formally considering adopting a civil infraction ordinance framework for Washtenaw County.
During the Board of Commissioners' Ways and Means meeting Wednesday night, Treasurer Catherine McClary introduced the measure to the board. The resolution was not on the original meeting agenda.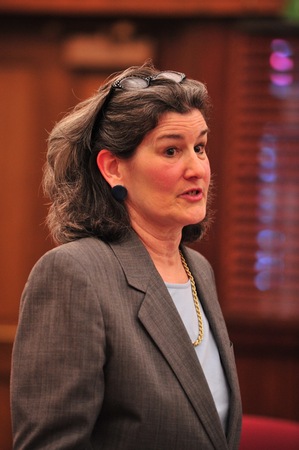 Ryan J. Stanton | AnnArbor.com
After some discussion, commissioners gave their initial approval in a 10-0 vote on the issue, with Commissioner Barbara Levin Bergman absent. A formal hearing is scheduled on the issue for the Nov. 7 full meeting of the board at 220 N. Main St. in Ann Arbor.
The ordinance is one that has been talked about for several years but never implemented - and so none of the county's departments' ordinances can be punished by a civil infraction.
County departments including Public Health, Water Resources and Building Inspections have expressed interest in turning some of its violations into civil infractions. Specific ordinances would have to be amended and approved by the board in order to turn the punishment into a civil infraction.
Civil infractions are typically enforced with a fine.
Should a person in violation of an ordinance fail to pay the civil fine, they could still face court proceedings and potentially jail time if not in compliance.
The point of civil infractions is to correct the behavior of the violator, said Judge Kirk Tabbey, chief justice of the 14-A District Court in Ypsilanti.
"You're trying to get compliance more easily up front," Tabbey said, stating that he thinks the ordinance is an efficient use of the county's money. "The idea behind enforcement is to correct the problem."
The 14-A District Court currently handles the misdemeanor cases for dog license violations.
Tabbey said the 14-A District Court is extremely busy with jury trials and does not need the extra hearings with dog license violators.
"We don't want to tie up your courtroom with that time and expense," said Commissioner Dan Smith, R-Northfield Township.
The issue of enforcing dog licenses in the county is one that has resurfaced this year as Washtenaw County officials re-examined the necessary services they were required to provide with regard to animal control. McClary said she heard from dual animal control policy committees this summer that county officials were in support of drafting a civil infraction ordinance.
McClary said Wednesday that enacting a civil enforcement ordinance policy is the second part of a three-phase plan she developed several years ago, specifically with enforcing dog licenses.
The first phase was to allow dog licensure at the time of the expiration of a rabies shot. The final phase, which McClary said she hopes to do in 2013, would be to do a dog census to find out how many dogs are in the county and how many are currently licensed.
The Washtenaw County Treasurer's office is responsible for overseeing the licensing of dogs. Recently, the office launched an online portal for residents to obtain dog licenses.
About 40 percent of new licenses obtained are through the portal, McClary said. For a neutered dog, licenses cost $12 for one year or $36 for a three-year license.
Currently, there are 4,000 to 5,000 purchases of dog licenses per year that bring in about $52,800 for the county. McClary has stated previously that dog license fees are not a profit-maker for the county, and cover the cost of service.
Increased enforcement of the dog licensing -- which county officials hope would be made possible through enacting a civil infractions ordinance -- could bring in additional revenue for the county.
Currently, county officials state there's an 11 percent compliance rate for dog licenses. Increasing compliance to about 18 percent would raise annual revenue from the fees to $84,780. Additionally, an increase to 55 percent compliance would mean annual revenue of $259,044, officials have reported.
A future civil infractions ordinance county-wide would not apply to the municipalities that already have their own dog licensing ordinances: Ann Arbor, Ypsilanti, Ypsilanti Township, Pittsfield Township and Superior Township.