Washtenaw County commissioners call special meeting to discuss Georgetown Mall redevelopment
Posted on Wed, May 11, 2011 : 4:34 p.m.
The Washtenaw County Board of Commissioners has called a special working session for Tuesday to discuss changes to the county's Full Faith and Credit Policy as well as the proposed Packard Square redevelopment project, county officials said.
The meeting will start at 6:30 p.m. in the county administration building at 220 N. Main St. in downtown Ann Arbor.
County commissioners expressed hesitations last week about helping to finance the redevelopment of the former Georgetown Mall site in Ann Arbor.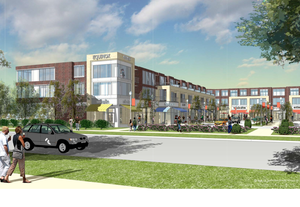 From The Harbor Companies LLC
While the county isn't expected to directly contribute any money to the nearly $50 million project known as
Packard Square
, it is being asked to approve a tax-increment financing plan that would forestall realization of any new taxes from the development for 14 years to help pay for environmental cleanup and other activities.
The county also is being asked to apply for a $1 million grant and a $1 million loan from the state for the four-story building containing 230 apartment units and 23,790 square feet of retail space. The loan would be backed with the full faith and credit of the county, which has some commissioners concerned about potential debt obligations if the project isn't successful.
During next Tuesday's meeting, commissioners are expected to discuss amendments to the existing Washtenaw County Full Faith and Credit Policy from Nov. 14, 2007.
The board also has requested that three chairs' briefings (previously known as administrative briefings) be posted as open meetings so other commissioners and the public can attend. The meetings will be held at 4 p.m. at 220 N. Main St. on May 24, June 28 and July 26.