Vivienne Armentrout enters 5th Ward race for Ann Arbor City Council
Posted on Fri, May 4, 2012 : 6:48 p.m.
Vivienne Armentrout pulled petitions on Friday to run for the 5th Ward seat being vacated by Ann Arbor City Council Member Carsten Hohnke.
Armentrout, a Democrat, is the second candidate to enter the race following Chuck Warpehoski, who pulled petitions soon after Hohnke announced he was not seeking re-election.
Assuming they both file, Armentrout and Warpehoski will face off in the August primary to compete for the open seat. The filing deadline is May 15.
Armentrout, who runs the Local In Ann Arbor blog, ran against Hohnke in 2008 but lost by a narrow margin.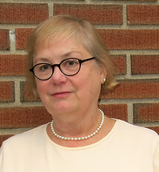 She recently indicated she did not plan to run this year, but explained on Friday she had been encouraged by a number of people in the ward and across the city to run.
She also said her candidacy affords an opportunity to discuss a number of current issues that will influence the future direction of Ann Arbor.
"I really think that when you have an open seat, as this is, that it's beneficial to have a competitive race," she said. "And I really thought there would be more people stepping up to run and it looked very likely we were going to go into the primary with one person on the ballot."
Armentrout served as a Washtenaw County commissioner representing Ann Arbor's northwest district from 1997 to 2004.
She retired undefeated but returned to politics to run for City Council in 2008, the year she lost to Hohnke, and then lost a race for the Ann Arbor Library Board in 2010.
She has written for the Ann Arbor Observer, mostly on civic issues, and since 2009 has been the publisher of Local In Ann Arbor.
Armentrout, who has been critical of the policies and positions of the mayor and council majority, said she doesn't think Warpehoski would fairly represent her on many issues.
She was vehemently critical of building a new police-courts building when sheran in 2008. She was involved more recently in the citizen-led campaign to defeat a proposal for a hotel and conference center on the Library Lot in downtown Ann Arbor, above where the city is building a new underground parking structure.
She also has been outspoken on the proposed restructuring of the Ann Arbor Transportation Authority and formation of a countywide transit authority.
Armentrout is a former college professor (Ca. State Polytechnic University, Pomona) who moved to Ann Arbor to follow her husband Charles in 1986.
In addition to her political activities, she worked as a freelance book editor and copyeditor and operated Oakleaf Press from 1998 to 2006 as the publisher of a book she edited, "Gleason's Plants of Michigan," currently published by the University of Michigan Press.