First female president of Washtenaw Vietnam Veterans: 'Now we make sure vets are welcomed home'
Posted on Mon, May 28, 2012 : 5:55 a.m.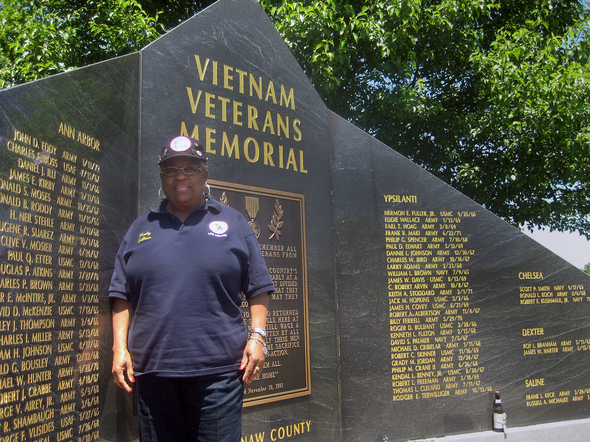 Laura Blodgett | For AnnArbor.com

Martha (Marty) Cothorn has served her country, and she's served her fellow veterans as both a nurse and as a volunteer.

Now she's serving in a new role as the first female president of Local Chapter 310 of the Washtenaw County Vietnam Veterans of America, housed in the VFW building on Wagner Road near Ann Arbor.

Cothorn, who served as an Army nurse in Vietnam from 1969 to 1970 and received a Bronze Star, says she looks forward to her two-year term as head of Local 310. She plans to continue to support soldiers on active duty, as well as the organization's work in the community through the Veterans Administration and its assistance to returning soldiers in need.

"It's rewarding to see people you assist, and let them know that they are welcome,'' she says.

The welcome she helps to give returning veterans is a far cry from the reception she herself received when she returned from Vietnam.

"When I came off my flight [from Vietnam], I went into the bathroom, took off my fatigues and combat boots and threw them in the trash since I had nowhere to put them,'' says Cothorn, who was the only female on the flight home of 219 male soldiers.

"I put on an outfit to get through the airport and across the country. There was picketing at the time and we weren't welcome home. People were being spit on."

Cothorn says many Vietnam veterans, especially nurses, hid the fact that they'd served in the military. "People would say, 'We can't hire you because you might have PTSD.' They always had reasons, so you kept quiet," she says.

"Now we make sure veterans are welcomed home and know there is support for them, in terms of getting a job, food, medical care, [handling] disabilities. That service is there. Our veterans didn't know this."

Cothorn joined the military in 1966, after graduating from college, where she served in the Army student nurse program. After basic training she was shipped out to Vietnam.

She met her former husband in Vietnam, while they were both serving on active duty. He later worked for the State Department, and when he was assigned overseas, she went into the reserves. While on reserve duty from 1971 to 1996, she spent time serving at a hospital in Seoul, South Korea. She retired from the military as a lieutenant colonel.

When Cothorn and her husband returned to the U.S., they moved to Ann Arbor so he could finish his law degree at the University of Michigan. She worked as an oncology nurse in the VA health care system, first in Ann Arbor from 1979 to 1983, and later in Allen Park and Detroit.

Cothorn joined the Washtenaw County Vietnam Veterans of America in the 1980s, and became active in the organization once her children were grown and she retired. The local chapter has been one of the prominent chapters in the U.S., honored as the National Chapter of the Year in both 1997 and 2009. The chapter is made up of roughly 190 members, including four women.

The chapter provides both financial and other assistance to veterans and active duty soldiers, whether that means shipping 3,000 care packages to soldiers in Afghanistan or regular visits to the VA hospital in Ann Arbor. Other efforts include building extensions on the homes of returning soldiers with disabilities and painting the helicopter housed at the Yankee Air Museum.

Cothorn believes the Vietnam Veterans organization — whose motto is "Never again shall a veteran coming home from battle be made to feel alone and unappreciated" — is especially suited to helping soldiers returning home.

When it comes to the needs of returning soldiers, she says every case is different and depends on whether they were wounded and, if so, how badly.