University of Michigan student misses chance to speak at regents meeting, prompting outcries
Posted on Thu, Apr 19, 2012 : 5:50 p.m.
A University of Michigan School of Social Work graduate student was prohibited from speaking at the Board of Regents meeting Thursday afternoon because she was outside the meeting room when her name was called for public comments.
Other students erupted in chants of support for her as she argued for an opportunity to speak.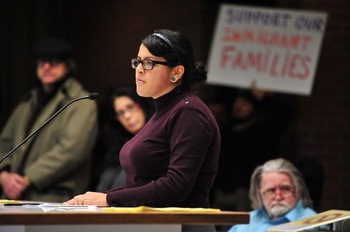 Martha Valadez, who graduates at the end of the term, returned roughly five minutes after her name was called, while public comments were still in session, but was kept from speaking. "You missed your chance" said Sally J. Churchill, U-M vice president and secretary.
"This is my last opportunity to speak at the University of Michigan," Valadez said, pleading with Churchill to speak. She also appealed to U-M President Mary Sue Coleman, but Coleman didn't respond.
Churchill refused as students chanted "Shame on you. Shame on you."
Valadez told Churchill she was outside of the room because she was deciding whether to speak about a viral video Coleman referenced at the beginning of the meeting. Valadez said the video perpetuates racial stereotypes. She originally intended to speak about tuition equality for undocumented students.
Public speakers get five minutes for public comment. U-M allows exactly 10 public speakers to comment each meeting, per legal requirements. Commenters must sign up in advance.
Valadez was the first person called to the podium during the public comment section at the end of the meeting.
While Valadez argued with Churchill about her opportunity to speak, another scheduled speaker lost her chance to speak.
"This is your last chance," Churchill told the scheduled speaker. When that speaker failed to interject, Churchill moved onto the next speaker.
Before she did, Valadez asked another time to speak and a crowd of students chanted "let them speak, let them speak, let them speak," but were refused.
After the meeting officially ended, Valadez gave her speech. Roughly half the administrators and regents present stayed to watch, but others, including Coleman and Churchill, left.
"I felt like I was invisible," Valadez said in an interview after the regents meeting. She said mid-meeting she left the room to go to the bathroom and was approached by a fellow student about the viral video. The two discussed how they thought he video was offensive, and Valadez was in the process of deciding whether or not to address it during her comments before the regents when she missed Churchill calling her name.
Coleman moved quickly through the consent agenda Thursday, saying she had to accommodate a regent who needed to leave early.
"There's protocol, I understand that," Valadez said, "but I was furious."
"It's the procedure," explained U-M spokesman Rick Fitzgerald, adding that Valadez knew her name was first on the public comments list. "It's the process."
Students at the meeting expressed outrage over the exchange.
"It was disheartening," said U-M senior Matthew Griffith. "I understand the rules, but it could have been done in a much more decent way."
Added U-M senior Eman Abdelhadi:
"(Churchill) didn't validate the concern. She could have easily said I'm sorry these are the rules ... but she literally acted like (Valadez) hadn't spoken," she said.
"The whole exchange showed that public comments only exist because they are legally required to have them," she said, adding that during other comment sessions "it was just so clear that people weren't listening."
U-M junior Ian Matchett agreed.
"A student basically pleading for her right to speak to the people who are supposed to be representing her —and then being denied— is disturbing," he said.