University of Michigan smoke-free policy bans smoking in parking lots, but not cars
Posted on Mon, Jan 24, 2011 : 10:14 a.m.
The University of Michigan has fine-tuned its smoke-free policy to allow individuals to light up in their vehicles and sidewalks adjacent to main public roads — but not anywhere else.
While people can smoke in their cars, smoking won't be allowed in parking structures or surface lots, U-M announced today.
U-M facilities, grounds and buildings will go smoke free July 1.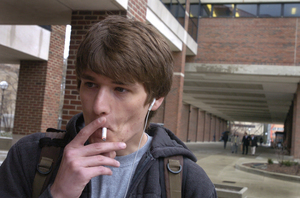 File photo
Smoking will be allowed on sidewalks because the university does not own Ann Arbor streets, and U-M has no authority over the sidewalks, a press release said. Although U-M does own the streets on North Campus, the policy will be the same there to be consistent.
Smokers may find this aspect of the policy tricky: U-M has banned smoking on sections of sidewalks along driveways, parking lots, parking structures, loading docks and access drives, even if these are along main roads.
That's because U-M wants to avoid situations where employees have to walk through groups of smokers as people enter and exit buildings, U-M spokesman Rick Fitzgerald said.
Smoking-cessation help will be made available to faculty, staff and their spouses, including generic over-the counter nicotine replacement products. University Health Service will offer students free counseling, classes on quitting and over-the-counter nicotine replacement products.
The policy will rely on voluntary compliance, U-M officials said, although repeat offenders could be disciplined through existing disciplinary processes outlined in the school's standard practice guide. The office of student conflict resolution, which reviews issues involving student conduct, will handle student violations.
"A staff member could be disciplined, up to dismissal, for repeatedly violating the university policy," Fitzgerald said via e-mail. "Of course, we would hope to never reach that point."
U-M President Mary Sue Coleman targeted smoking on all three U-M campuses, including locations in Flint and Dearborn, in April 2009. Since then, a steering committee for a smoke-free university has filled in the details to the plan.
U-M has already begun promoting the smoke-free initiative to students, but a February awareness campaign is planned for staff and faculty.
According to a nonprofit group called the American Nonsmokers' Rights Foundation, 466 colleges nationwide have implemented or plan to implement smoke-free campus policies.
In Michigan, that includes 11 community colleges — including Washtenaw Community College, the private liberal arts institution Hope College in Holland, and U-M's three campuses.